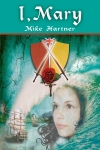 Publisher: Eternity4Popsicle Publishing (July 14, 2015)
Buy the book now at:

Amazon
Author's Website
Heartwarming and inspirational, Mike Hartner's novel I, Mary is a beautifully-written middle grade children's novel that captures a young girl's dreams of becoming a sailor. A fantastic read for children and their families who enjoy fiction set to the background of sailing and historical times. If your middle grade reader loves The Little House on the Prairie series by Laura Ingalls Wilder, then she will love reading I, Mary by Mike Hartner, the third book in the Eternity Crofter Family Saga series.
The tale takes a reader into a turbulent time in England's history, when Oliver Cromwell usurps power from the monarchy and plunged England into a civil war. Readers are introduced to the protagonist Mary as a toddler aboard one of her father's ships. She shows an innate love and connection with the sea. At age eleven, she pleads with her father to allow her to become a sailor. A caring man, he yields. He urges one of his captains to take her on, even though she is still a young girl. Her superior intelligence, reliability, and hard work earns the respect of sailors and their captains who, along with the readers, watch Mary learn and excel in seamanship.
Mary is a unique, strong, and kind girl existing during a time in history when females were considered by many to be chattel without rights. Readers admire her from the start as they watch her navigate through calm waters and stormy seas. She is a praiseworthy character for her courage and the way she helped or touched so many other characters .
When the first person narrator changes, a line of three stars above the passage marks the switch. Intimate content is limited to hand holding and kissing, but the growing love story carries emotional impact throughout. The dialogue, though, is still written using some of the authentic dialect of Highland Scotland, such as lass, laddie, and bairn. Hartner's novel is also an easy, smooth read for children and to read aloud to children.
Children can also get a history lesson as well, or be inspired to learn more Highland Scotland and clan life. In the author's note to his readers, Mike Hartner says, "My goal is to provide an enjoyable reading experience and not a historical map." But admits he'd be pleased if a youngster got motivated to check the book's historical accuracy regarding the British Crown Hierarchy, the 'Rump' parliament, the Great Plague, and the Great Fire in London, all of which are mentioned in the story.
This reviewer rarely cries during the emotional hits in a story, but Hartner's ending stirred powerful feelings and brought forth tears. Readers will resonate with Mary from start to finish over the poignancy of her life. An inspiring read that pulls at your heartstrings, I Mary is a brilliant novel that sets the dreams of a young girl to the historical backdrop of a time that was most difficult for women.