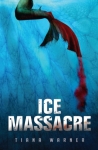 Publisher: Rogue Canyon Publishing (2014)
Buy the book now at:

Amazon
Author's Website
Action-packed battle scenes, complex, engaging characters and a "killer" twist on mermaid lore make this award-winning YA fantasy novel a captivating read.
For generations the people of Eriana Kwai have selected their best warriors for the "honor" of embarking upon an annual assault on the murderous creatures infesting the waters that surround their tiny island. Known as "The Massacres," this ocean-bound tactical offensive pits 20 rigorously trained young men against the burgeoning army of mermaids that lay siege to the island's fishing grounds, leaving starvation in their wake. But these are no ordinary mermaids, rather, they're the Homeric sirens of Greek legend, handmaidens of death and destruction, hell-bent on annihilating the human population of Eriana Kwai.
With the men failing to return home, a new, unconventional fighting force is ready to take its place in history – a band of 20 young women. Immune to the sensuous allure of the mermaids, the women combatants have a more level battlefield.
Among the most promising of the new warriors is Meela, an intelligent, thoughtful eighteen year-old whose skills, when harnessed properly, are unsurpassed. But Meela has a secret locked deep within her heart, an Achilles' Heel that threatens to undermine their "Massacre" and send her entire crew to a watery grave.
"Ice Massacre," the first installment of author Tiana Warner's "Mermaids of Eriana Kwai" fantasy series, introduces a rich and engaging cast of characters. From her main character, Meela, brimming with the fire and passion of her youth to Meela's arch rival Dani, a self-professed leader with an ax to grind, the author artfully delivers characters that reflect all of the excitement as well as the internal emotional conflicts that drive a woman-child of eighteen. These are characters with whom the YA and NA reader can easily identify. Make no mistake this is not a children's tale, but a gritty and riveting story of strong female warriors who can be relentless and cold-hearted. Expect graphic violence and brutality. Betrayal, fear, anger, coming-of-age turmoil, and rivalry are portrayed as the story unfolds. 
The author's use of older world weaponry and sailing ships rather than our current weapons and communications capabilities creates an odd juxtaposition of technological eras that actually works. Armed with hand-forged iron weaponry and crossbows the women warriors are akin to modern day vampire hunters, straddling two worlds, challenging the reader to step on board "The Bloodhound" and join Meela on her hunt.
In the tradition of "The Hunger Games," bestselling author Tiana Warner weaves a clever story of resilience and determination in the face of deadly odds. With riveting battle scenes, complex, enduring characters and "killer" twist on mermaid lore this award-winning, action-packed fantasy novel that is sure to captivate.