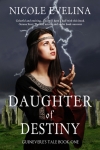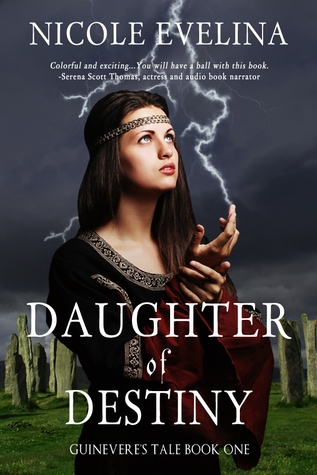 Publisher: Lawson Gartner Publishing (December 21, 2015)
Buy the book now at:

Amazon
Author's Website
Guinevere asks us, the readers, to listen to her words in the prologue of Daughter of Destiny. She implores, "I will take back my voice and speak the truth of what happened." So shall the lies be revealed and Camelot's former glory restored."
Daughter of Destiny is the first of three historical fiction novels in the series of Guinevere's Tale, by Nicole Evelina, that is narrated by Guinevere. Her tale begins during her  young turbulent childhood in fifth century Britain. It is a time of struggling to come to grips with her special powers; of studying to become a priestess; of competing against Morgan, the woman who will become her lifelong enemy; and of coping with the politics and violence ravaging her homeland in England's fifth century. The novel follows Guinevere as she is separated from her family in Northgallis, during her early years in Avalon, training in the magical arts, and her eventual return to her war-ravaged homeland.
This is no amateur first attempt at writing a novel—Evelina's writing is lyrical and powerful. Her natural talent for storytelling is obvious from the first page as she captivates the reader with her tale told from Guinevere's engaging perspective.
Even more impressive is the author's extensive research behind the series. Her knowledge is evident as she constructs a richly-drawn fictional world of fantastical landscapes and sorcery. She immerses the reader in legend, magic, and tragic love, all set against the backdrop of misty Avalon. The author clearly loves her subject and passes on that passion through her telling of Guinevere's story.
What makes this series brilliant, however, is that Evelina takes Guinevere's story far beyond its common historical re-telling. Guinevere is not merely a woman destroyed by her own weaknesses in loving the wrong man, as history would like us to believe. She is also a woman of power, intelligence, and special gifts who, from her early childhood and beyond, strives to use her talents to help her own people.
Guinevere is an independent woman of strength and fortitude, who finds herself at odds with a world in which her gifts are a liability, and her passions put her and her homeland at great risk. Evelina's account is a riveting and captivating page-turner. 
This first offering by Evelina is rich and stunning, easily comparable to novels by other bestselling historical fiction authors. She has done her research and created a world that is compelling, historically accurate, and a realistic portrayal of the times balanced with the mystic and the magical. 
This reviewer highly recommends Daughter of Destiny to fans of Arthurian and Avalonia tales, historical fiction, political intrigue, and heroic journeys.