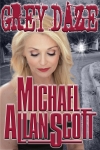 Buy the book now at:

Amazon
Author's Website
Disturbed by psychic powers and whisperings from his dead wife Sonja, freelance photographer Lance Underphal finds himself caught in a web of evil.
When Lance's lady friend Callie asks him to investigate the disappearance of her reclusive uncle, he and Jake Jacobs, a PI and former Navy SEAL, are on it. What seems like the natural death of a lonely old man reveals itself as murder. As Jake tracks the suspects, he discovers a pattern leading to government corruption at the highest levels—drug dealing and gun running involving biker gangs and the U.S. Dept. of Alcohol, Tobacco, and Firearms.
Lance is jailed, arrested on felony charges for Sonja's death, all the while plagued with paranormal visions of the murderer. Hit from all sides, he suffers a heart attack.
Sonja's ethereal guidance and Lance's innate toughness put him back on track, and after he and Jake deal with everything from a shyster lawyer to a drug-addicted killer to a biker gang covertly supplied weapons by the ATF, the story could be over. But further psychic insights into a cache of stolen gold and murdered souls crying for release force Lance and crew to press on.
The third in the Lance Underphal Mystery series by Michael Allan Scott, Grey Daze dishes out action on every page. Scott clearly loves language and uses it deftly, depicting vicious battles to the death, steamy sex, and disgusting doings in a drug dealer's den with equal zest and a refreshing absence of four-letter words.  He has created credible, multi-dimensional characters, using them as glue for his sudden scene switches and dizzying plot twists.
Lance is an empathic anti-hero beset by middle-age aches and angst; Callie has her own sixth sense and is poised to accept a new romance; Sonja contributes unearthly messages ranging from wise, to wifely, to downright spicy; Jake is half muscle, half guts, and all heart. The circle is completed by a huge but affectionate pooch rescued from a life of crime.
This murder mystery/thriller, based on real events (as per the author), is layered with plot twists and alarmingly vivid details, along with voices of the dead and visions of imminent peril, make Grey Daze an action-packed page turner. It is sure to please already entrenched Underphal fans and draw new ones to the fold. Highly recommended for thriller/suspense fans.