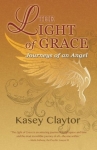 Publisher: Balboa Press (2016)
Buy the book now at:

Amazon
Author's Website
"The Light of Grace" by Kasey Claytor begins at the end of Grace's final material/physical life on earth. She transcends into her angelic form and following a life review, Sophia, her former guardian angel, introduces Grace to the new charges she is to guide.
During her new role as guard and guide for people assigned to her, Grace continues to evolve. Her charges each live during vastly different time periods on earth. Mumbie, a woman, lives in primitive earth times. Garth, a Christian male, lives in the middle ages. Arnina lives in the technological age of the twenty-first century. Alistair lives in the twenty-ninth century, described as the salubrious Light Age.
In a surprising twist, the omnipotent narrator introduces himself by writing "And of course there is me. I am not a physical being, but I have been…". The story teller describes the lives of each of these characters, from birth through life's experiences until death, including their relationships and sufferings amidst supernatural guidance from Grace. To provide each character with visible and palpable loyalty and unconditional love, a canine spirit takes a physical form and stays by each one's side.
Edifying dissertations give readers a smorgasbord of spiritual precepts combining multiple teachings and explanations from both Biblical and Eastern sages. Readers who enjoy the writings of Deepak Chopra or Wayne Dyer will find Grace's metaphysical journey enlightening as it spans thousands of years both into the past and into the future.
The characters' universal life situations trigger recognition of universal truths as they struggle to deal with war, death, love, hate, loss, drug use, jealousy, lust for power, success, failure, self- incrimination, torment, deep love, compassion, peace, and joy. Sufferings are portrayed as necessary stepping stones for the evolution of souls with the spiritual guidance of angels whose main tools are unconditional love and the absence of judgment, trusting that everything is what it must be.
You may want to gather with others to explore and discuss your observations as you accompany Grace and her special emissary, Aelfraed, on Grace's spiritual journey crossing planes of existence and enduring trials and tribulations revealed through each character's telling. The characters' lives are vividly portrayed via the settings, lifestyles, and beliefs of the eras in which they live.
The Light of Grace: Journeys of an Angel by Kasey Claytor will make an excellent selection for book clubs interested in reading and discussing works that are spiritually and metaphysically oriented. It also will be a compelling read for anyone seeking answers to the mysteries of life, death, and what lies beyond.