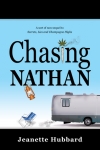 Publisher: Promontory Press (June 7, 2016)
Buy the book now at:

Amazon
Author's Website
An epic convoy of bad men, good guys, tough women, and international operatives who zigzag across the Oregon wilderness chasing a truck-load of marijuana briquettes, a million bucks in cash, and one lovable border collie in this fast-paced satire by Jeanette Hubbard.
Claudie, independent and relationship-weary, encounters Nathan, an affable bookstore owner, when the two camp side-by-side in what should be an idyllic woodsy retreat. Sparks of mutual interest waft over grilled salmon and chilled sauterne, until a nasty character named Hammer in a clapped-out truck decides to park nearby, barely squeezing in among the boulders. He's loud and foul-mouthed, and he abuses his border collie. 
The next morning, Nathan and his Winnebago are gone, along with Hammer – only the broken-down truck and the nervous collie remain. Claudie, a bit miffed at Nathan's defection and suspecting foul play, stows the mistreated canine in her car and buzzes off to find the nearest lawman. Little does she realize that she has become part of a massive dope deal gone wrong, with Nathan and his old female friend Dani, an espionage expert, in the thick of it.  
Claudie will learn a lot about Nathan, who, it turns out, is not just the jolly bookworm he appears to be; and there's a lot Nathan will discover about the surprisingly intrepid Claudie. She worries about Nathan as she fends off the weirdos trying to take her dog away, while Nathan thinks of her fondly even as he makes a daring escape from the violent Hammer and his evil twin Sprocket.
Author Jeanette Hubbard introduced Claudie, a seasoned sixty-something, in her first novel, Secrets, Lies and Champagne Highs. In this rollicking sequel, Hubbard displays her knowledge of highways, weaponry, dopers, and spies. Chasing Nathan criss-crosses genres: part hippie, biker, road-tripper's fantasy, part thriller with intellectual undertones, love interest, and liberal lacings of humor.
Claudie appeals as a gutsy heroine with one hand on the steering wheel, the other flipping a bird at the thugs who try and fail to grab the collie. But she has her smarmy side, too, secretly admitting that despite her best defenses against a new romance, Nathan makes her feel all warm and fuzzy.
Chasing Nathan has a non-stop plot that celebrates the back roads, the great Northwest, and two saucy seniors who can flirt, fight, and floor the accelerator as the situation demands.