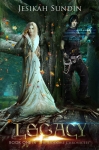 Publisher: Jesikah Sundin; 1 edition (January 19, 2014)
Buy the book now at:

Amazon
Author's Website
A captivating YA hybrid of sci-fi and medieval fantasy, mystery, and romance, Legacy opens The Biodome Chronicles series with divergent worlds on a carefully planned collision course.
Cyberpunk culture in 2054: hard-living, nihilistic youth who hate themselves as well as the world. Fillion Nichols, a brilliant but dissolute hacker, can claim a third object of hatred: his father, Hanley Nichols, mastermind—and, as Fillion suspects, cult leader—of New Eden Enterprises. He is the creator of New Eden, a hand-picked community living within the real-life Biosphere 2, to test the psychological effects of long-term isolation. To study the second generation of Biospherians who've never interacted with the Outside world, Nichols' team created The Code, a strict set of rules to which the inhabitants closely adhere.
The first generation play along—quite literally, as LARPers role-playing per a script created by Hanley Nichols, one that includes a noble class divided into four houses and social mores gleaned from medieval times. For the young people of New Eden Township, however, although they have a vague sense of being an experimental colony, all they really know of life is that it's an agrarian affair based on ritual, work, and the laws of nature.
Heirs to the Earth Element noble house, chivalrous Leaf and temperamental Willow Oak Watson, discover all is not as idyllic as it seems. They learn soon after their father's death that secrecy and murder have also been scripted into the game. A mysterious death card, a lost scroll, and a secret underground room lead the siblings to a portal to the Outside world, and to Fillion Nichols, self-professed Dungeon Master of New Eden.
Once Willow conquers her terror of "magic" satellite communications, she finds herself spellbound by the strangely dressed, tattooed, and pierced young man. Fillion is equally captivated: not only by Willow's beauty, but by the fact that the Watson children supposedly died nearly six years ago. His father went to trial on charges of negligence and manslaughter, and though never convicted, the infamy lingered on the family name.
Although he is now the Earth Element, Leaf finds that the other Elements are determining his future, even making conditions for his marrying the daughter of the Fire Element, whose son passionately pursues Willow. Meanwhile, Fillion endures his own trial for falsifying IDs, resulting in a 90-day sentence, which, as he'll soon find out, was also manipulated by his father from the start.
As Leaf and Fillion grapple with understanding their respective legacies, New Eden Enterprises begins preparation for the project's completion, Even as their increasingly twining paths are set out by their elders, the two young men are determined to discover the mystery behind Joel Watson's murder and the unexplained faking of his children's death.
Laced through with excerpts from news reports and interviews with both the real Biosphere 2 participants and the fictional members of New Eden Enterprise, and infused equally with near-future technology and ancient ceremony, Legacy will entice readers into its unfolding story.
2014 winner of Chanticleer Book Reviews Great Beginnings Cygnus winner for Sci-Fi/Fantasy, National Indie Excellence Award Finalist for Science Fiction, Cygnus Award for Sci-Fi/Cyberpunk, Dante Rossetti Award First in Category for Sci-Fi/Cyberpunk, and the Dante Rossetti Grand Prize Award for Young Adult Fiction.