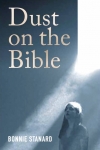 Publisher: Fairview Publishing (November 23, 2015)
Buy the book now at:

Amazon
Author's Website
A poignant tale from start to finish, Dust on the Bible by Bonnie Stanard is a vivid and emotionally captivating story about the strife of a family living in rural South Carolina in 1944.
Lily, a twelve-year-old farm girl, wraps readers around her heart. While struggling to understand the mysteries of death, God, family, and school bullies, she endures poverty and agonizes over her missing father. Lily is hungry for knowledge, but a sixth grade bully turns school attendance into misery. Lily is an easy target; she is quiet, poor, and wears homemade feed sack dresses. This is Lily's story, one year of her life when she transitions from childhood innocence to the edge of her awakening.
Readers first see Lily on a cold, October morning, while she warms her backside in front of the cook stove. Stanard does a superb job in crafting imagery that evokes the senses; readers can see the small kitchen and feel the morning chill. The author's descriptive words and phrases are fresh and easy to relish as readers follow Lily through the seasons, from bitter winter to scorching summer.  
Lily's consummate yearning to know what happened to her father moves the plot steadily forward. No one will talk to her about him, but she keeps asking. And every time she does, it causes trouble. Lily is bright, curious, and needs answers. When family members do reply to her questions, they keep comments short and simple; they shirk her questions to try to shield her from something they believe that she doesn't need to know. But, this creates even more questions and adds fuel to her active imagination. Nonetheless, their answers paint character sketches of each person in the story.
Grandpa owns the one-thousand-acre cotton farm that he runs without the help of a tractor. He and Grandma have opened their home for four of their five adult children, including Lily's mother and Lily herself. The overcrowded home is without indoor plumbing, cold on frosty winter mornings, and oppressing with stifling heat in the summer. They all share the endless chores and the long days of hard-scrabble living for a meager living.
Stanard creates a family with a non-nonsense way of life, but the family also carries a deep abiding love for each other; no matter what. Even when Lily's youngest uncle, Archie, goes overseas, despite the family's subdued fear, their love for him shines through in their reaction to the letters he writes to them.
Stanard has created a strong protagonist in Lily—one  in whom we can feel the relentlessness and restlessness of youth as shown in one of my favorite lines in her work.
"She daydreamed of sleeping late as she wanted to. Of swimming in Ma George's pond. Of catching lightening bugs and building forts. Of shooting the .22 rifle.  Most of all she wanted Grandpa to teach her to change gears so she could drive the pickup."
A few paragraphs later, Lily's reality ensues.
"Don't matter whether she wants to. Lily's old enough to know what work means," said Florence.
[Lily's mother replied to Grandpa when he told Florence that maybe it was too hot for the twelve-year-old Lily to work in the summer afternoons.]
Stanard's writing deftly shapes the narrative and the setting. Her pitch perfect dialogue conveys Lily's "tween" age while conveying the social strata of her world. Readers are pulled into her thoughts, her reactions, and the family dialogue––walking through her world, seeing it through her eyes, and feeling it through her heart. Lily is a brave individual seeking to find her own place in the world while enduring difficult times on many fronts.
Dust on the Bible is a moving novel with an honest perspective of what it was like for some who grew up in poverty in the South during the Second World War. The coming-of-age story of Lily is candidly related, drawing on all the senses. Lily's story and her world will linger with readers long after they've finished reading the final pages.