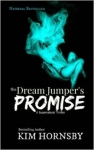 Publisher: Top Ten Press; 3 edition (January 5, 2014)
Buy the book now at:

Amazon
A mysterious murder and vivid, strange dreams are the perfect recipe for an engaging story. Readers who enjoy a good adrenaline rush will find this a brilliant romantic thriller.
Kristina (Tina) Green's life was perfect. She owned a diving shop on the beautiful island of Maui, spending her days diving along the coasts and her nights with her loving husband.
But when her husband disappeared, Tina's life was uprooted, and ten months later she finds herself still unable to move on until she discovers what happened. Worse, her dreams relentlessly push her into the eerie depths of the ocean each night, and she is convinced that the ocean is trying to tell her something.
As Tina desperately tries to move on from her husband's assumed death and her mysterious dreams, someone from her past enters her life unexpectedly. The person has a preposterous offer of help by entering her dreams to determine what happened to her husband. Tina reluctantly accepts his aid, but her family and friends begin to act oddly. She finds herself on the brink of insanity as everyone loses her trust; she can only cling to the hope of resolving her husband's mysterious disappearance.
Kim Hornsby's The Dream Jumper's Promise begins with a heartbreaking premise and quickly envelops the reader in a cloud of intrigue. At first, the romantic energy of the novel and the developing background of each intriguing character is enough to keep the reader hooked. But soon it becomes clear that the death of Tina's husband is a larger puzzle begging to be solved. Tina is a strong protagonist worth rooting for. As the mystery develops, Tina begins to lose herself, and the reader must advocate for the resilient woman to push through as she teeters between the waking world and the dream world.
The narrative is further complicated by the strain put on Tina's relationships with the people around her. The complexity weaves itself around Tina as she copes with her husband's mysterious death, having someone invade her dreams, and trying to figure out whom she can trust. Readers are thrust into Tina's mind as they're left unsure with who and which world is telling the truth.
The Dream Jumper's Promise, the first in Kim Hornsby's The Dream Jumper's series,  is a sexy, paranormal thriller that gets the blood pumping and the heart racing.