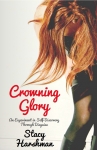 Publisher: Andarina Publishing (June 26, 2016)
Buy the book now at:

Amazon
Author's Website
Hairstyles can speak volumes about your personality, or at least, that's the idea Stacy Harshman explores in Crowning Glory: An Experiment in Self-Discovery through Disguise. A heartfelt portrayal of Harshman overcoming anxiety, her memoir is for anyone looking to read an uplifting story that's also a sheer delight.
Harshman spends weeks in New York City running an outrageous experiment: she records people's reactions to the different colored wigs she wears. Her hairstyles range from a fiery redhead to a raven-haired goth. Her obsession with hair goes back to her adolescence:  "…my hair has been my archenemy since seventh grade. There was never enough of it, and what I had was wimpy."
In addition to the unusual experiment, readers are drawn to the author's motivation to continue and complete her venture. Readers connect to not only the book's premise, but to Harshman herself; readers advocate for her to succeed.
However, beneath the hilarity of the experiment, readers see the author's vulnerability:
"I didn't have a job to give me some sense of being a productive human being… I wanted to get one, but just the idea freaked me out…Before the depression, I had rehearsed and performed music…not being able to play out with my band killed me…just being around people was tough to impossible…I spent the rest of the day fighting panic attacks."
Readers also cheer for Harshman's bravery to face and conquer her anxiety through finding her true self.  Her courage elevates the writing of this memoir, definitively distinguishing it from a self-absorbed story. The narrative reduces the stigma of mental illness that plagues so many people. The story offers hope and encouragement to those who have a mental illness, while bringing awareness and understanding to those who do not.
The memoir demonstrates that appearance does play a role in social interactions in varying degrees. People's feelings about their looks can become a determining factor in how others perceive them; a better understanding of self goes a long way in relationships.
Some may find that the impact of the story is too diluted due to Harshman's retelling of the experiment as she explores different looks. However, the book still resonates with emotion throughout, while still providing readers with a candid and fun experience.
Readers get to embrace the past and present life of Harshman, sharing in her laughs, fears, and tears as she plays out her social experiment. An adventurous journey from start to finish, Crowning Glory provides fresh perspectives and insights about anxiety and self-image that might just inspire readers to conduct their own experiments with image in today's society.