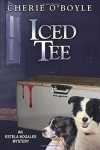 Publisher: I Street Press (February 2, 2015)
Buy the book now at:

Amazon
Author's Website
A freezer with blood trickling down the side. An inquisitive border collie. Cherie O' Boyle stirs these intriguing images to bring readers another engaging mystery with Iced Tee: An Estela Nogales Mystery, the second book in her popular series. Boyle doesn't fail to bring another fantastic narrative for cozy mystery fans.
Readers are introduced to the quirky little community of Arroyo Loco located in the coastal mountains of California. A diverse community complete with its own obligatory Home Owners Association, filled with people you probably recognize from your own neighborhood: you have busybodies, town gossips, the obligatory community grouch, and the person who leads the association but no one really cares for them leading. Definitely a slice of California pie in this book!
Our ensemble of quirky characters is topped off by one Estela Nogales who with her border collies Shiner and Scout, "live here happily in our weathered house under a big blue oak." Estela is an amateur sleuth and psychologist by trade. At times self-deprecating, yet charming with a wry sense of humor, Estela really drives the story forward. Cherie O'Boyle crafts a character that makes the reader want to do two things: never put the book down until it is finished and pick it back up once completed.
Estela's perspective of the community is priceless and epitomizes the author's desire to create a community that appears like any other real-life counterpart. Her descriptions are intimate and cozy, making readers feel right at home in the community in a feel-good type of way.
The mystery unfolds rather quickly and humorously. Community member Tee is found dead, but this is certainly not your run of the mill death. Tee is discovered in a chest freezer. What ensues is a frankly hilarious exchange of community members on what resulted in poor Tee's demise.
The wild running theory is that Tee was killed over stolen ice cream; perhaps she was the ice cream thief. Did she fall backwards into the freezer, bumping her head, during this act of thievery? Was she startled by a fellow community member who caught her in the middle of this horrendous crime? After all, a broken camera was found in pieces on the floor near the chest freezer!
You will have to pick up Iced Tee to find out what happens next. The narrative abounds with smaller challenges popping up in the background of the freezer mystery. If you enjoy puzzles presented in the form of a laugh out loud whodunnit, than this is this book for you. Cherie O'Boyle crafts another good old cozy mystery that will certainly appeal to a wide variety of readers and keep them guessing until the final page.
Reviewer's Note: This mystery was awarded the 2015 Chanticleer Book Reviews "Small Town Cozy" for Mystery and Mayhem Awards.