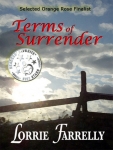 Publisher: Lorrie Farrelly, January 8, 2014
Buy the book now at:

Amazon
Author's Website
Readers will experience a strong onslaught of emotions as they come to grips with the horrific battles that were fought in Gettysburg, PA during the Civil War. Lorrie Farrelly's historical romance Terms of Surrender carries the spirit of a post-war nation expertly throughout its pages; a superb read for fans of love stories set on the rugged background of the Western Frontier.
The plot follows the very real struggle of former Confederate Captain Michael Cantrell. As with many post-Civil War veterans, he's unsure what to do with himself in a nation ripped apart by a war that left behind broken homes.
Michael ends up in Wind River Basin, Wyoming, where he suffers a severe gunshot wound while coming to the aid of a young woman, Annie Devlin, and her younger brother, Robbie. The siblings are running their small horse farm on their own while trying to keep their land from people with less than kind intentions. What plays out in the remaining pages of the book is a love story over the course of a year and a half. As he is nursed to health, Michael and Annie fall in love.
From the first page, Farrelly draws on the genuine emotions experienced during the era. The authentic dialogue spoken in choked whispers from the characters tug at your heartstrings and hooks you for the rest of the story.
Farrelly devises a narrative that illustrates the heartbreak of a man who pledges his life to a cause that was lost; he was a soul who had witnessed a lifetime of war and death. However, despite the tragedy, the story provides the hope that most veterans lose in trying to re-acclimate a peaceful life; the hope of finding your soulmate. Love becomes the anecdote to heal Michael's battered heart. No matter how wild the West may be, love will lasso it again and again.
This author brings back to life an era that is long gone. Terms of Surrender is a brilliant historical romance with a healing love that is much needed in the aftermath of  destructive Civil War.