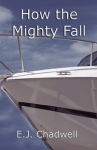 Publisher: Jaffa Books (January 24, 2016)
Buy the book now at:

Amazon
Author's Website
A great mystery has readers so immersed in the action that the book's pages fly by as readers look to determine the murderer. However, readers can only be captivated by such a narrative if it contains a clever plot, dynamic characters, the right dose of clues together with red herrings, subplots that enhance the story, and a logical, yet unexpected ending which readers try to attain as they read.
How the Mighty Fall is a story with a plot and denouement that qualifies as a top-drawer mystery.
The story starts engulfed in action. Connie Ross is hosting a party onboard her yacht that readers immediately learn is her sanctuary.
"Inexplicably drowsy, Ross had been forced to leave her party. She now held tightly onto the rail as she bobbed and weaved in time with the churning waters."
"She relaxed her grip, however, when a familiar voice offered help by massaging her back and getting her to relax. Ross drifts as she relaxes, releases her hold on the rail, when 'one forceful push against her back sent Ross over the rail.' "
Home on maternity leave, Officer Gigi Mirabelli gets a middle of the night call from Jimmy Frail, Chief of Detectives, who cancels the rest of her two months leave to put her back on duty for the high-profile missing person's case of Connie Ross, the media mogul. She will collaborate with Harry Burns, a homicide detective.
Although not yet confirmed, authorities suspect murder. Connie's celebrity status makes the case one which authorities want to be resolved quickly. The press will keep the case front and center, making its resolution a high priority.
Mirabelli and Burns do not fit into any stereotype of detectives on a missing person or a murder case. Their physical description, dialogue, and actions highlight their differences as they seek to solve the mystery. Readers will subtly learn more about them in the course of the action, with bits of their personal lives that explain their unique approach to the case, and just enough humor that makes the discovery pleasurable.
Who is Connie Ross?  As the story develops, the author shows readers the many sides of this powerful woman. Who would want to kill her? Readers discover along with Mirabelli and Burns that the list of her enemies is a very long one.
The author executes the mystery with excellent characterization of all the characters, with superb dialogue, and with a strong clever plot that never fails to hold reader interest. The intriguing clues have readers working with Mirabelli and Burns to solve the mystery; Chadwell adds just the right amount of captivating twists and turns to keep her readers pondering the solution. The not easily determined ending is powerful.
An enthralling murder mystery that is set in the city that never sleeps.