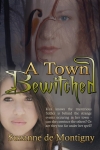 Publisher: Books We Love (2016)
Buy the book now at:

Amazon
Author's Website
When vivacious, red-haired fiddler Kate McDonough suddenly appears in the tiny Canadian town of Hope, it brings disturbing changes for Kira Montgomery and her friends.
Kira already has problems. She plays the classical violin, and "Kids make fun of me enough as it is because I'm a child prodigy—AKA a nerd." The IGs (In-girls) at school also mock her best friend, Charlotte, because she is adopted, and Chinese. Kira's beloved father died recently. He had promised to buy her a special violin, but now it's just too expensive. And after she plays "Danny Boy" at his funeral, that tune starts haunting her.
Now, to Kira's disgust, everyone in Hope is enchanted by the magnetic Kate's Celtic tunes, even Kira's own family. Kira believes she' s being stalked—could it be Kate? Worst of all, Hope is in turmoil because someone is killing birds and leaving ugly graffiti everywhere, even painting "Liar" on Kira's father's gravestone. Trying to make everything right, Kira lands in serious peril.
Author de Montigny sets her plot in motion with action from the first page. Kira is regular enough for teen readers to identify with, yet possessed of some extra perception and grit that make her a fitting heroine. Suzanne de Montigny adds extra layering to this supernatural YA yarn with special musical details, from Beethoven to the Celtic strains produced by the mysterious Kate.
A Town Bewitched offers a magic formula for the young adult audience: a high school full of competing cliques; a beautiful, mysterious stranger; a dark, malevolent presence; and a bold young woman who rises above her personal woes to set things right.
​ ​