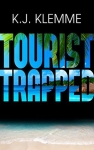 Genre(s):
Publisher: Travels and Travails Publishing
Buy the book now at:

Amazon
Author's Website
Can a spunky female attorney and her computer-geek sidekick survive the violence of paid kidnappers and cold-blooded murderers, a dangerously deranged mother and her captive children, the vicious plotting of a twisted psychopath, a traitorous fiancé, and at times the worst enemy of all—their own reluctance to let go and let love work its magic?
Amanda Sloane, high-profile Chicago divorce lawyer, gets a panic call from her estranged father, Don, telling her that her half-sister Rebecca and her fiancé have disappeared in Cancun, Mexico. Don wants Amanda to help find her. Amanda, forced to recall how Don abandoned her and her mother, is reluctant. But even as she tries to avoid the situation, friends begin to tell her how good-hearted she is, even though she is usually seen, and often sees herself, as relationship destroyer, someone who "goes through men like Starbucks goes through coffee cups."
Acting on the newfound wish to do the right thing for what little family she has, she heads for Cancun, dragging her nerdy co-hort Chad Cooper along to deal with her clients at long distance, under her always strict supervision.
Before long they're in Mexico desperately hunting for Rebecca, despite minimal cooperation from the local police, some temptations of the lush natural surroundings, the call of a long-lost love, and a plethora of clues that, as Chad diligently and correctly points out, just don't add up. To complicate matters, under Cancun's romantic spell Amanda thinks she might be falling for Chad even though she has a fiancé back home who wants her help in getting him elected, and Chad has a wife he never talks about.
Then Chad is called away to Portland where he secretly has his own person-hunt. Amanda is left battling bad guys, and being stalked by a powerful, politically motivated psychopath who wants her gone by whatever means.
In Klemme's deft hands, regret may be tempered by reconciliation, trust may push aside the shadows of treachery, and the seeming end of the story forms a new beginning. Tourist Trapped, designed as Part One of a trilogy, is a madcap, fast-paced international mystery that pits multi-layered villainy against inexperienced, but spirited, sleuthing with a back-beat of newly minted love.