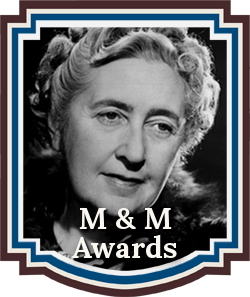 The Mystery & Mayhem Writing Competition recognizes emerging new talent and outstanding works in the genre of  Cozy Mysteries and Classic Mysteries. The M&M Awards is a division of Chanticleer International Novel Writing Competitions.
More than $30,000.00 dollars worth of cash and prizes will be awarded to Chanticleer Book Reviews 2016 writing competition winners!
The M&M Book Awards FIRST IN CATEGORY sub-genres  are:  Amateur Sleuth, Romance, Animals, Cooking/Knitting/Hobbies, Blended Genre, Medical/Lab, Travel, Humorous, Historical, Classic British, Y/A, and Senior Sleuth.
The following titles will compete for the SHORT LIST rounds. The works that make it on the SHORT LIST will then compete for FIRST IN CATEGORY Positions and Book Awards Packages.
NOTE: This is the Official List of the M&M 2016 Finalists.
The Finalists Authors and Titles of Works of the M&M 2016 Novel Writing Contest are:
A Girl Like You by Michelle Cox
Secret Life of Anna Blanc by Jennifer Kincheloe
The Prosecution of Mr. Darcy's Cousin by Regina Jeffries
Murder by the Spoonful by Vicki Vass
The Magic of Murder by Susan Lynn Solomon
Banished Threads b Kaylin McFarren
Member from Devon by Bruce Graham
Skyrizer # 7 by Phillip Buchanon
The Scarlet Wench by M. K. Graff
Major Crimes by Michele Lynn Seigfried
Death Runs on Time by A. B. Michaels
A Scone to Die For (Oxford Tearoom Mysteries)  by H. Y. Hanna
Killer Transaction  by Catherine Bruns
Twelve for Twelve  by Dawn Rasmussen
Secrets Revealed by Kate Vale
Bells on Her Toes by Diana J. Febry
Secrets, Lies, and Champagne Highs  by Jeanette Hubbard
 Under English Heaven  by Alice K. Boatwright
The Body Next Door by Gay Yellen
Death Unscripted by M.K. Graff
The Erotica Book Club for Nice Ladies by  Connie Spittler
Hot Scheming Mess by Lucy Carol
Engaged in Danger: A Jamie Quinn Mystery by Barbara Venkataraman
Sherlock Holmes and the Dance of the Tiger by Suzette Hollingsworth
Deadly Dye and a Soy Chai by Traci Andrighetti
Smart, but Dead by Nancy G. West
Deathbed of Roses by Alannah Foley
Homes and Watkins   by R. J. Lewis
The M&M Finalists will compete to be on the SHORT LIST and those works will then compete for the M&M First In Category Positions, which consists of Seven Judging Rounds.  First Place Category Award winners will automatically be entered into the M&M GRAND PRIZE AWARD competition, which has a cash prize purse of $200.  The CBR Grand Prize Genre Winners will compete for the CBR Overall Grand Prize for Best Book and its $1,000 purse.
All First In Category Award Winners will receive high visibility along with special badges to wear during the Chanticleer Authors Conference and Awards Gala.

First In Category winners will compete for the M&M Awards Grand Prize Award for the $200 purse and the M&M  Grand Prize Ribbon and badges.

TEN genre Grand Prize winning titles will compete for the $1,000 purse for CBR Best Book and Overall Grand Prize.
A coveted Chanticleer Book Review valued at $345 dollars U.S. CBR reviews will be published in the Chanticleer Reviews magazine in chronological order as to posting.
A CBR Blue Ribbon to use in promotion at book signings and book festivals
Digital book award stickers for on-line promotion
Adhesive book stickers
Shelf-talkers and other promotional items
Promotion in print and on-line media
Review of book distributed to on-line sites and printed media publications
Review, cover art, and author synopsis listed in CBR's newsletter
Default First in Category winners will not be declared. Contests are based on merit and writing craft in all of the Chanticleer Writing Competitions.

As always, please do not hesitate to contact us with any questions, concerns, or suggestions at Info@ChantiReviews.com. 

Congratulations to the Finalists in this fiercely competitive contest! 
Good Luck to all of the M&M Finalists as they compete.
Short List  announcements will be made in our social media postings as the results come in. The 2016 First In Category Winners will be recognized at the 2017 Chanticleer Annual Awards Gala and Banquet.
The M&M Grand Prize Winner will be announced at the April 1st, 2017 Chanticleer Writing Contests Annual Awards Gala, which takes place on the last evening of the Chanticleer Authors Conference that will be held in Bellingham, Wash. 
We are now accepting submissions into the 2017 M&M Awards writing competition. The deadline for submissions is March 31st, 2017. Please click here for more information.