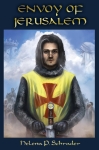 Genre(s):
Publisher: Wheatmark, Inc. (2016)
Buy the book now at:

Amazon
Author's Website
A page turner that pulls back the curtains on history, Envoy of Jerusalem reveals a vivid cast of characters and an intriguing account of the 12th century Crusades– a well-researched and compelling tribute. Fans and readers of historical fiction will find this work immensely satisfying.
This is the third and final installment in a series of three books Schrader has written with the Crusades as her backdrop. This third volume begins in 1187 after the Christian armies have just suffered defeat at the hands of the enemy. To make matters worse they have lost Jerusalem and the mood is defeatist and gloomy. The story once more centers on the author's heroic figure of Balian Ibelin, as well as his family and entourage. A quick search of history reveals that Balian is an actual historic figure who lived from 1143 to 1193. I thoroughly enjoyed Schrader's thoughtful and vivid portrayal of Balian d'Ibelin.
Envoy of Jerusalem is a perfect bookend to Schrader's epic trilogy on this period in Christiandom's history. As with the other two volumes, Helena's masterful writing leads readers deeper into the intriguing storyline as each page turns. She sprinkles a huge cast of characters throughout, and breathes life into each one making them seem as if they will walk right off the pages. Her descriptive detail of each scene makes the reader feel as if s(he) is right there–an eyewitness to history in the making in this sweeping epic.
History truly does come alive in this series. The Crusades were one of the most harrowing times in the early Middle Ages—kingdoms were at stake and religions were galvanizing, and future trade routes were in the making. The Crusades were a struggle both physically and financially as well. Whether they were effective or even necessary are still debated by historians. Yet one thing is certain: They left an undeniable mark on the course of human history. Very real battles occurred that affected very real people. Author Helena Schrader brings the human factor to the forefront in "Envoy of Jerusalem."
Yet action abounds as well, as it is a story with a major military conflict as its focal point, along with political intrigue, noble family dynamics, and power plays that that will pull readers in and won't let them go. In short, Envoy of Jerusalem effectively takes on the tumultuous times surrounding the Third Crusade with the Holy Land as its setting, and Schrader portrays multiple aspects of life of this time and place vividly while maintaining historical accuracy.
All of these inner workings of a massive military push are dealt with in this series of books that build up to the grand finale in Envoy of Jerusalem. It takes a very skilled author to take a topic as dense as the Crusades into a compelling read of well-researched historical fiction. Helena Schrader pulls it off with flying colors. Her success lies in the development of the characters.