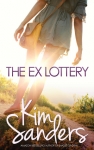 Publisher: Kim Sanders (2014)
Buy the book now at:

Amazon
Author's Website
When art teacher Tory Adams trades in her heartache for a lottery ticket romantic sparks fly in this humorous tale of misunderstandings, half-truths and the pot of gold at the end of the rainbow.
Elementary school art teacher Tory Adams grew up believing in the power of love. But after three disastrous relationships, Tory realizes that the "love-at-first-sight" tales spun by her grandmother exist in a time and place of memory, far from the reality of Tory's world. Or do they?
On a whim Tory buys a lottery ticket, basing the numbers on the dates she was unceremoniously dumped, and when her numbers come up gold, men start crawling out of the cyberspace woodwork. With an overnight tally of 23 marriage proposals, Tory needs an out.
Her best friend, Emma, prods Tory into a full head-to-toe makeover, trading in her small town Southern style for a sleek, new cosmopolitan look. And the new Tory "Victoria" Adams is transformed inside as well as out. She packs her designer bags and boards a plane to Ireland, in the hopes of buying the castle where her grandparents kindled their great love.
Armed with her new attitude, a box of keepsakes and her grandmother's Claddagh ring, Tory is determined to follow her dream and find the blue dragon of her childhood. But plans are never etched in the proverbial Blarney stone and when the world's most eligible woman collides with the world's most reluctant bachelor sparks do fly.
Author Kim Sanders ("Shades of Gray"– a murder mystery) delivers a fun, eclectic cast of characters in this humorous tale of misunderstandings, half-truths and miscommunications. From Tory's two geeky exes who are out to claim their parts of the lottery pie to the super-sexy Irish rogue, Shane, whose reluctance and secrecy could lose him the woman he loves, Sanders illuminates the human condition with a gentle insight that has the reader rooting for each character regardless of their motives. And then there's Tory's ex, Carter, a Special Forces man of mystery, whose revelations have the power to hurl Tory back into heartache.
Set in the pastoral beauty and magic of the Emerald Isle, "The Ex Lottery" is a clever twist on the modern-day fairy tale, part rom-com, part travelogue and one hundred percent romance that demands a follow-up book. First Place in the New England Reader's Choice Awards and Winner of the Chatelaine Award for Contemporary Romance, Kim Sanders's "The Ex Lottery" is a must-read entertaining romp in the grass for anyone who believes in "romance and happily ever after."