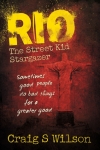 Publisher: Networlding Publishing (2016)
Buy the book now at:

Amazon
Author's Website
This international YA crime thriller, one that could have been ripped from the latest headlines, is set in beautiful Rio de Janeiro. Juxtaposed against the glamorous hi-life of the iconic city, the author—Craig S. Wilson brings into focus the city's gritty and deadly underground crime scene with its drug lords and cartels.
The destitute lives of 16-year-old Lucas and his siblings are already placed in turmoil when their mother passes away. But their troubles are exasperated when Lucas' older brother is suddenly murdered in cold blood outside their squalid tiny hovel in the shanty town (called a favela) where they live a meagerly existence along with millions of other impoverished Brazilians.
Instead of panhandling, young Lucas tries his luck at shining shoes. But in an impromptu moment, he steals his customer's wallet. Daniel Burke, a visiting American, is his rube. Daniel traveled to Rio to reconnect with old family roots, but is now left with no money and is taken pity on by Gabriela, an enchanting airport employee whom he asks for help. Thus, Wilson begins weaving his tale of the Rio Street Kid Stargazer.
Lucas, needing a permanent means of support for his younger sisters, turns to a widely-feared drug lord, Antonio Cruz Mendez—known as "Dez"–for work. When a drug deal turns violent and Lucas must flee, he is shocked when he bumps into Daniel again. When Daniel and Gabriela, simply trying to retrieve his wallet, they inadvertently become dangerously entangled in young Lucas' life that now includes dealing with corrupt police and the underground crime syndicates turf wars.
Wilson did hit a couple of road bumps with this first novel, including pieces of the plot and character motivation that some may find on the side of unrealistic. Some readers may decide that the author is telling the reader too much while and not "showing enough." But many will find that these shortcomings do not diminish the likability of the protagonists or the investment in Lucas' mental chess game with "Dez."  Like his younger protégé, Dez is a product of his environment—the poverty stricken "favelas" in which it seems that the only way to escape is by succumbing to a life of crime or face a destitute future.
Many will appreciate the novel's honest snapshots of Rio de Janeiro, which includes its luxurious hotels and beautiful landscapes while thoroughly delving into the ugly underground and severe issues of such abject poverty. Wilson crafting of Daniel's character is allows us to see Rio as a newcomer. We soon learn, as Daniel did, that this unique city's charm has a lot to offer, but is quite risky for tourists and locals alike. Daniel's character is developed as he becomes more connected with his roots to Rio and is forced to reconsider his life and his "success" as an employee of Lehman Brothers investment bank.
Overall, Wilson's cultural interpretation of Rio de Janeiro, along with his grasp of its extreme poverty level and the seedy underground that takes advantage of it, is reason to pick up this book for an informative cultural  read—especially with the aftermath of the 2016 Summer Olympics and the FIFA World Cup and the fall of Lehman Brothers. The romantic elements, along with the chaotic and complex action will have many readers looking forward to book two in this series that states "Sometimes good people do bad things for a greater good."