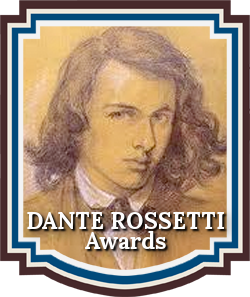 The Dante Rossetti Writing Competition recognizes emerging new talent and outstanding works in the genre of  Young Adult Fiction. The Dante Rossetti Awards is a division of Chanticleer International Novel Writing Competitions.
More than $30,000.00 dollars worth of cash and prizes will be awarded to Chanticleer Book Reviews 2016 writing competition winners!
The Dante Rossetti Awards FIRST IN CATEGORY sub-genres  are:  Contemporary Young Adult, Science Fiction/Fantasy/Paranormal, Dystopian/Edgy/Urban, Mystery/Thriller/Suspense, Historical Young Adult, YA Adventure.
The following titles will compete for the FIRST IN CATEGORY Positions and Book Awards Packages.
This is the COMPLETE OFFICIAL Finalists List as of Jan. 26, 2017 for the Dante Rossetti 2016 Novel Writing Contest for Young Adult Fiction.
Jennifer Lynn Catz – The Darkest Legacy: Hints of Betrayal
Edward Corcoran – The Earth, the Sky, and the Heaven Above 
Bryan Ney – Calamity Jane: How the West Began
Eric Kephas – The Purity Council
Jodie Esch – Little White Lies
Kimberly Bernard – Lost Prophecy:Awakening
Alex E. Carey for Earth's Embrace
T.S. Pettibone for Hatred Day
D. J. Adamson for Outre
Tory Gates for  A Moment in the Sun
Wende Dikec for Tiger Lily
Harold Coyle – The Other Side of the Wire
Susan Faw for Seer of Souls
E.Z. Graves for Love Zombies of San Diego 
Ben Sharpton for Camp Fear: 13 Days of Fear
K.C. Finn for  Legion Lost
Alan Sproles and Lizanne Southgate for  The Train from Outer Space
T. M. Murray for Teramar
Richard Mann for Wasted in Waldport
Philip Carlisle for Time's Will: Eyes of Phire
T.C. Miller for BlackStar Bomber
Mike Hartner for I, James
Lisa Y. Potocar for Train to Glory
Jesikah Sundin for ELEMENTS (The Biodome Chronicles #2)
K.J. McPike for XODUS
Christopher Mannino for School of Deaths
Alex Paul for SeaJourney
Anne Sweazy-Kulju for Grog Wars
Sheena Snow for  Sparked (The Metal Bones Series Book 1)
Linda Covella for Yakimali's Gift
Nancy Pennick for 29
Jeffrey Stagg for A Campfire Nightmare
Alex E. Carey for Water's Reflection
Norma Hinkens for Immurement
Edward Mountain for Cerulean Skies
This is the Official List of Finalists for the 2016 Dante Rossetti Awards
The Dante Rossetti Finalists will compete for the Dante Rossetti First In Category Positions, which consists of Four Judging Rounds.  First Place Category Award winners will automatically be entered into the Dante Rossetti GRAND PRIZE AWARD competition, which has a cash prize of $200. The CBR Grand Prize Genre Winners will compete for the CBR Overall Grand Prize for Best Book and its $1,000 purse.   

All First In Category Award Winners will receive high visibility along with special badges to wear during the Chanticleer Authors Conference and Awards Gala.
First In Category winners will compete for the Dante Rossetti Awards Grand Prize Award for the $200 purse and the Dante Rossetti  Grand Prize Ribbon and badges.
TEN genre Grand Prize winning titles will compete for the $1,000 purse for CBR Best Book and Overall Grand Prize.
A coveted Chanticleer Book Review valued at $345 dollars U.S. CBR reviews will be published in the Chanticleer Reviews magazine in chronological order as to posting.
A CBR Blue Ribbon to use in promotion at book signings and book festivals
Digital book award stickers for on-line promotion
Adhesive book stickers
Shelf-talkers and other promotional items
Promotion in print and on-line media
Review of book distributed to on-line sites and printed media publications
Review, cover art, and author synopsis listed in CBR's newsletter
Default First in Category winners will not be declared. Contests are based on merit and writing craft in all of the Chanticleer Writing Competitions.

As always, please do not hesitate to contact us with any questions, concerns, or suggestions at Info@ChantiReviews.com. 

Congratulations to the Finalists in this fiercely competitive contest! 
Good Luck to all of the Dante Rossetti Finalists as they compete for the coveted First Place Category  positions.
First In Category announcements will be made in our social media postings as the results come in.
The 2016 Dante Rossetti Grand Prize Winner will be announced at the April 1st, 2017 Chanticleer Writing Contests Annual Awards Gala, which takes place on the last evening of the Chanticleer Authors Conference that will be held in Bellingham, Wash. 
We are now accepting submissions into the 2017 Dante Rossetti Awards writing competition. The deadline for submissions is May 30th, 2017. Please click here for more information or to enter the contest.