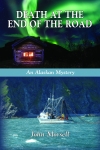 Publisher: Village Books (2016)
Buy the book now at:

Amazon
If you enjoy being transported to the last frontier, and want to be taken for a dramatic plot ride on a boat called the Otterly Ridiculous, with DEA agents, a character named The Mole, and a couple of dead bodies, then you're in for a treat with John Morsell's novel "Death at the End of the Road." A semi-retired biologist and environmental consultant, Morsell draws from his more than 30 years working and living in Alaska to craft this engaging and well-written piece of mystery fiction.
As the story goes, Charlie Skyler, a boat-dwelling eco-tour guide and some of his unusual comrades, get tangled up in an adventure that involves murder, an eccentric drug lord, psychopathic assassins, and mysterious government agents. What makes the book even more compelling and appropriate, is that it's set in Homer, Alaska, population 5,000, a small town known as a docking station for artists, fishermen, and ex-hippies.
Often tagged "quirky," Homer also has been referred to as "the end of the road" due to its geographical location on the Kenai Peninsula about a 220-mile drive south of Anchorage. And perhaps you know Homer from hometown notables like singer Jewel or writer Tom Bodett (it's his voice in the ads for Motel 6). See? It's quirky.
With a knack for storytelling, first-time author Morsell is especially adept with dialogue, one of the most challenging aspects of fiction. Rather than revealing his characters through straight narrative, Morsell resorts to lively banter, in this case between two federal agents, one of whom is cranky, and an easy-going caretaker:
"Do you mind if we look around?" [Agent Milford] Beverly asked.      "Actually, we have a search warrant, so it doesn't matter whether you mind or not," Agent March interjected.
"Help yourselves. You can spend the whole winter here if you want," Don [the caretaker] said as he handed Beverly a ring of keys and winked lasciviously.
In some instances, Morsell shows further literary talent by employing alliteration ("The Lieutenant signaled the spooked soldiers…"). Also, he uses metaphor to disguise what could otherwise be construed as explicit language, as in this episode between two characters, one of whom has consumed a bit of herb:
"Frank was not at all interested in the details of Brett's horrible night. After colorfully suggesting that Brett perform[s] various anatomically impossible acts, he told Brett to make himself permanently scarce by leaving the state or possibly the country, implying that if either he or the authorities caught him he would likely not be long for this world."
Originally from Wisconsin, Morsell has taken a circuitous (read: quirky) route to fiction himself. In the mid-1970s, he moved to Alaska to work as a Field Environmental Specialist for the company building the Trans-Alaska oil pipeline and ended up staying for 30 years. He eventually formed his own small consulting company researching fish and aquatic habitats and went on to travel extensively throughout all regions of Alaska. Today, he lives in Washington state with his wife.
"The characters are loosely based on actual people and events," Morsell said in an interview on The Whatcom Wordsmith podcast. Further inspiration came in the form of Seldovia, another Alaskan city with its natural beauty, as in this passage halfway through the novel:
"…Facing north toward the mouth of Seldovia Bay, Kate could see across Cook Inlet to the other side, where two volcanic peaks were visible, sunlight glinting off their snowy slopes. Artistic wisps of remnant fog completed the picture. A sea otter floated off the bow in casual nonchalance. A dozen gulls squabbled over a piece of food."
A delightful suspense with splashes of humor, and some romance, "Death at the End of the Road" is a book you won't want to miss, especially if you yearn to live vicariously through characters of nontraditional lifestyles and appreciate the natural scenery of one of the most beautiful places in the US.