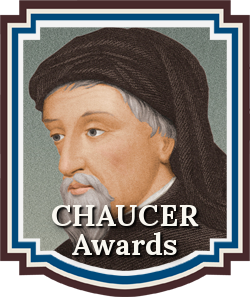 The CHAUCER Writing Competition recognizes emerging new talent and outstanding works in the genre of pre-1750s Historical Fiction. The Chaucer Awards is a division of Chanticleer International Novel Writing Competitions.
More than $30,000.00 dollars worth of cash and prizes will be awarded to Chanticleer Book Reviews 2016 writing competition winners at the Chanticleer Authors Conference April 1, 2017!
Because we received an unprecedented amount of entries for the 2015 Chaucer Awards we divided the writing competition into two separate awards for 2016: The Chaucer Awards for pre-1750's historical fiction and the Goethe Awards for post-1750 historical fiction.  We have moved entries that are post 1750 to the 2016 Goethe Awards tracking and judging rounds.
This is the Official Finalists List of the Authors and Titles of Works that have made it to the Finalists of the Chaucer 2016 Novel Writing Contest.
NOTE: This list is COMPLETE as of January 27, 2017.
The Chaucer Awards FIRST IN CATEGORY sub-genres  are:  Pre-Historical Fiction, Ancient Historical Fiction, World/International History (non-western culture historical fiction), Americas-Historical Fiction Pre-1750s, Dark Ages/Medieval, Renaissance, and Elizabethan/Tudor 1600's.
The following titles will compete for the Short List and then compete for the First Place Category Positions and Awards Packages.
Hana Samek Norton – The Serpent's Crown: A Novel of Medieval Cyprus
Kate Braithwaite – Charlatan
Carol M. Cram – The Towers of Tuscany #2
Gerald W. McFarland – The Last of Our Kind, Third in the Buenaventura Series
Sandra Vasoli – Truth Endures: Je Anne Boleyn Book Two #2
Jean Gill – Plaint for Provence
Laura Kitchell – Lady of the Bridge #2
Edward Parr – Kingdoms Fall
N.M. Bell – No Absolution
Lorraine Buck – The Last Rosary
Gina M. Bright – 1381: The Forgotten Revolt
Leonide Martin – The Visionary Mayan Queen: Yohl Ik'nal of Palenque
H.J. Reynolds – A Treachery of Spies
Michal Strutin – Judging Noa: a Biblical Woman's Journey
Austin Hernon-Robert – The Wayward Prince, Book Two
Lilian Gafni – The New World: Flower from Castile
Catherine T Wilson and Catherine A Wilson – The Gilded Crown
Laura Kitchell – Lady of the Imperial City
Bruce Gardner – Hope of Ages Past
Helena P. Schrader – Envoy of Jerusalem: – Balian d'Ibelin and the Third Crusade
Mike Hartner – I, James
Prue Batten – Tobias
Charlene Newcomb – For King and Country
Gail Avery Halverson – The Boundary Stone
Sandra Vasoli – Struck With the Dart of Love: Je Ane Boleyn Book One
James Conroyd Martin – The Boy Who Wanted Wings
The Chaucer Finalists will compete for the Chaucer Awards First In Category Positions, which consists of Four Judging Rounds.  First Place Category Book Award winners will automatically be entered into the Chaucer GRAND PRIZE AWARD competition, which has a cash prize of $200. The CBR Grand Prize Genre Winners will compete for the CBR Overall Grand Prize for Best Book and its $1,000 purse.   

All First In Category Book Award Winners will receive high visibility along with special badges to wear during the Chanticleer Authors Conference and Awards Gala.
First In Category winners will compete for the Chaucer Awards Grand Prize Award for the $200 purse and the Chaucer Grand Prize Ribbon and badges.
TEN genre Grand Prize winning titles will compete for the $1,000 purse for CBR Best Book and Overall Grand Prize.
A coveted Chanticleer Book Review valued at $345 dollars U.S. CBR reviews will be published in the Chanticleer Reviews magazine in chronological order as to posting.
A CBR Blue Ribbon to use in promotion at book signings and book festivals
Digital book award stickers for on-line promotion
Adhesive book stickers
Shelf-talkers and other promotional items
Promotion in print and on-line media
Review of book distributed to on-line sites and printed media publications
Review, cover art, and author synopsis listed in CBR's newsletter
Default First in Category winners will not be declared. Contests are based on merit and writing craft in all of the Chanticleer Writing Competitions.

As always, please do not hesitate to contact us with any questions, concerns, or suggestions at Info@ChantiReviews.com. 

Congratulations to the Finalists in this fiercely competitive contest! 
Good Luck to all of the Chaucer Finalists as they compete for Semi-Finalists positions.
First In Category announcements will be made in our social media postings as the results come in.
The Chaucer Grand Prize Winner and First Place Category Winners will be announced at the April 1st,  2017 Chanticleer Writing Contests Annual Awards Gala, which takes place on the last evening of the Chanticleer Authors Conference that will be held in Bellingham, Wash. 
We are now accepting submissions into the 2017 Chaucer Awards and the Goethe Awards writing competitions for Historical Fiction. Please click here for more information or to enter the contests.