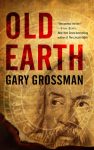 Publisher: Diversion Books (2015)
Buy the book now at:

Amazon
Author's Website
A historical fiction thriller in the vein of "The DaVinci Code." An ancient secret, safe-guarded for 400 years discovered. A fast-paced thrill ride with a secret society determined to keep the discovery hidden from mankind.
Old Earth is a gripping tale of historical intrigue and espionage that leads readers on a journey that spans 400 years. The book weaves science, politics and religion into a high-octane thriller. With locations ranging from a cave in Montana to Vatican City, Grossman has created a tale that often leaves you wondering if you are reading a work of fiction or an actual historical account.
As the book opens, the year is 1601 and you find yourself crawling through a cave in Italy with none other than world renowned scientist Galileo Galilei. He discovers a mysterious black "wall" buried deep within the cave, something that will have implications later in the story and will impact many people. The composition of the wall fascinates Galileo as it absorbs all light and is covered in odd markings. In fact, this discovery plays a role (in Grossman's telling) in Galileo being accused of heresy by the Catholic Church. What Galileo fears more than repercussions from the Catholic Church is the unprecedented turmoil on all fronts, including religious and secular governments, that will befall mankind if his discovery is revealed.
The plot thickens as a secret society of powerful individuals is formed to safeguard this secret — a secret so big that, if revealed, will cause society to fall apart — for 400 years.
Fast forward to the present when a group of students, led by Professor Quinn McCauley, is on an archaeological dig in Montana with high hopes of finding dinosaur bones. What they unearth instead is the well-guarded secret Galileo discovered some 400 years before, a black wall. When the secret society reveals itself, Dr. McCauley finds his life in danger. What ensues is a thrilling global quest for the truth that makes for a page-turning read.
The book does have spots that take some effort to wade through. This mainly occurs during the early stages of the book where a fair amount of time is spent setting the stage for the story and developing characters. However, the reader's persistence will be well rewarded in the end.