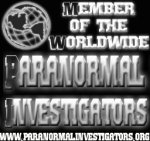 Anonymous, a riveting story based on a real-life grab-the-seat-of-your-pants thrill-fest by Chanticleer First Place Clue Award-winning author, Christine Benedict, is making news! Her hair-raising novel is based on the real-life incidents that  she and her husband experienced  when they lived in a haunted 1875 farmhouse.  
It all started the day she and her husband moved into the 14-room farmhouse with only a few of the rooms in livable condition. Her husband worked hard and socialized with his brothers while she stayed at home with the baby, trying to discern if she was going insane like her mother, or truly was hearing footsteps on the floor above… when no one else was at home. Benedict puts her character, Debra, into  some of the same horrifying situations she lived through, from thinking the house is haunted to thinking she might be inheriting her mother's insanity, and to receiving explicit and terrifying letters from a stalker.
With a new plot twist around every corner, the author delivers a complex story of obsession and jealousy that will keep the reader turning page after satisfying page. Christine Benedict's Anonymous hits all the marks for an engrossing, edge-of-your-seat read.
Real Life ghostbusters discover what goes bump in the night at author's farmhouse!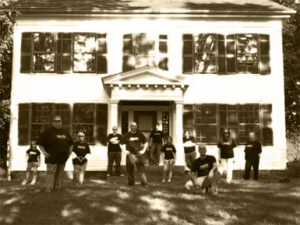 MFPS is based in Munroe Falls, just outside of Akron, Ohio.
Their mission statement is:  The Munroe Falls Paranormal Society strives to provide an objective and unbiased approach to the scientific study, investigation, and research of paranormal phenomenon.
They are a well-organized, science-based group of individuals whose passion is to  discover if the noises you're hearing are just normal noises, or actual disembodied voices trying to scare the crap out of you.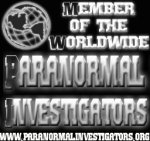 The MFPS has taken on investigating Benedict's house, and what they discover is both shocking and hair-raising. Watch the video of the investigation and everything that happened here.
Christine and The Munroe Falls Paranormal Society invite you to join them at The Berea Branch of The Cuyahoga County Library on November 14, at 7:00 pm to see this incredible documentary. Sponsored by Mysterious Midwest.  
Christine Benedict is the 1st Place winner of the 2015 Clue Book Award
Chanticleer Reviews:  "With a new plot twist around every corner, the author delivers a complex story of obsession and jealousy that will keep the reader turning page after satisfying page. Christine Benedict's "Anonymous" hits all the marks for an engrossing, edge-of-your-seat read."
Watch the Anonymous' spooky Book Trailer: https://youtu.be/70eys8mECFY
Contributor: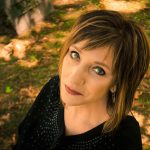 Sharon Anderson is a horror writer with a sense of humor. Her book, Curse of the Seven 70s answers the question,
'What happens when Vlad Dracula's younger brother comes back to life bent on revenge, but finds love instead?"
 Find out more about this author at http://www.SharonAndersonAuthor.com