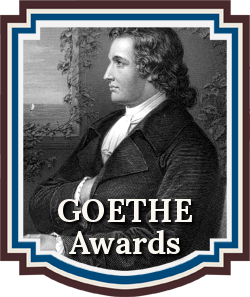 The Goethe Novel Writing Competition recognizes emerging new talent and outstanding works in the genre of post-1750s Historical Fiction. The Goethe Awards is a division of Chanticleer International Novel Writing Competitions.
More than $30,000.00 dollars worth of cash and prizes are awarded to Chanticleer Book Reviews 2016 writing competition winners at the Chanticleer Authors Conference April 1, 2017!
Because we received an unprecedented amount of entries for the 2015 Chaucer Awards we divided the writing competition into two separate awards for 2016: The Chaucer Awards for pre-1750's historical fiction and the Goethe Awards for post-1750 historical fiction.  We have moved entries that are post 1750 to the 2016 Goethe Awards tracking and judging rounds.
This is the Official Finalists List of the Authors and Titles of the Goethe 2016 Novel Writing Contest.
The Goethe Awards FIRST IN CATEGORY sub-genres are: Regency, Victorian, 1700s/1800s, Turn of the Century, 20th Century, World Wars and Other Wars, World/International History post-1750, and U.S. History.
The following titles will compete for the SHORT LIST (Semi-Finalists):
Rich DiSilvio – My Nazi Nemesis
Lars D. H. Hedbor – The Darkness: Tales From a Revolution – Maine
Anthony Cunningham – Skyesong
Sandra Perez Gluschankoff – Franzisca's Box
S. Thomas Bailey – Blind Faith-The Gauntlet Runner
Emma Rose Millar & Miriam Drori – The Women Friends: Selina
Michael Sheahan – The Sean
J.P. Kenna – Lost Utopia
Brigitte Goldstein – Death of a Diva–From Berlin to Broadway
C.T. Wells – The Kingdom of the Air
Joe Vitovec – Full Circle – A Refugee's Tale
Connie Hertzberg Mayo – The Island of Worthy Boys
Paula Butterfield – Forever Free: A Novel of Edmonia Lewis
Linda Cardillo – The Boat House Cafe
Amy Wolf – The Misses Bronte's Establishment
Lucinda Brant – Deadly Affair: A Georgian Historical Mystery
Carrie Kwiatkowski – Running Before the Wind
Elizabeth Crowens – Silent Meridian
J.L. Oakley – The Jossing Affair
Duncan Stewart – In Their Finest Hour
Meredith Pechta – Dividing Prejudice
David Selcer – Lincoln's Hat
Tom Glenn – The Last of the Annamese
Ivan Light – Deadly Secret of the Lusitania
Eleanor Webster – No Conventional Miss
Darryl Wimberley – Paul Bunyan
Carol M. Cram – A Woman of Note
Jude Berman – Angel
Joe Corso – Lafitte's Treasure
Sherman Smith – Golden City on Fire
Nancy Foshee – Ephemeral Palaces
Jeremiah Clark – American Slave
M.C. Nelson – Chrysalis: A Novel
Alethea Williams – Naapiikoan Winter
Neal Katz – Outrageous, The Victoria Woodhull Saga, Volume 1: Rise to Riches
Teresa Healy Janssen – The Ways of Water
Suzette Hollingsworth – Sherlock Holmes and the Dance of the Tiger
Darryl Wimberley – A Seeping Wound
A.B. Michaels – The Depth of Beauty
Vanda – Juliana
The Goethe Finalists will compete for the Goethe Awards First In Category Positions, which consists of Four Judging Rounds.  First Place Category Book Award winners will automatically be entered into the Goethe GRAND PRIZE AWARD competition, which has a cash prize of $200. The CBR Grand Prize Genre Winners will compete for the CBR Overall Grand Prize for Best Book and its $1,000 purse.   

All First In Category Book Award Winners will receive high visibility along with special badges to wear during the Chanticleer Authors Conference and Awards Gala.
First In Category winners will compete for the Chaucer Awards Grand Prize Award for the $200 purse and the Chaucer Grand Prize Ribbon and badges.
TEN genre Grand Prize winning titles will compete for the $1,000 purse for CBR Best Book and Overall Grand Prize.
A coveted Chanticleer Book Review valued at $345 dollars U.S. will be awarded to the winning title.
CBR reviews are published in the Chanticleer Reviews magazine.
A CBR Blue Ribbon to use in promotion at book signings and book festivals
Digital book award stickers for on-line promotion
Adhesive book stickers
Shelf-talkers and other promotional items
Promotion in print and on-line media
Review of book distributed to on-line sites and printed media publications
Review, cover art, and author synopsis listed in CBR's newsletter
Contests are based on merit and writing craft in all the Chanticleer Writing Competitions.

As always, please do not hesitate to contact us  at Info@ChantiReviews.com with any questions, concerns, or suggestions.

Congratulations to the Finalists in this fiercely competitive contest! 
Good Luck to all the Goethe Finalists as they compete for the coveted First Place Category  positions.
First In Category announcements will be listed in our social media postings as the results come in.
The 2016 Goethe Grand Prize Winner and First Place Category Winners will be announced at the April 1st,  2017 Chanticleer Writing Contests Annual Awards Gala, which takes place on the last evening of the Chanticleer Authors Conference to be held in Bellingham, Wash. 
We are now accepting submissions for the 2017 Chaucer Awards and the Goethe Awards writing competitions for Historical Fiction. Please click here for more information or to enter the contests.