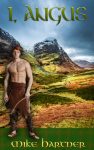 Publisher: Eternity4Popsicle (2016)
Buy the book now at:

Amazon
Author's Website
Immediately, readers are swept up in an adventure taking place in Northern Scotland during these harrowing times. The English have invaded and land is bereft with broken homes and broken families. In particular the story follows the war-ravaged life of fifteen-year-old, Angus Mackenzie. As the first pages of the book unfold Angus is tasked with leaving the safety of his family's castle to deliver a message from his father to a neighboring king.
The trip is not an easy one nor is it without profound dangers. Twists and turns occur not only on the trail, but in the journey itself. Eventually Angus makes it to neighboring castle and comes upon Angela, the daughter of the king he was to deliver his father's message to. Angela is alone in the castle. The return of her father's rider-less horse one day, was an ominous sign.
What ensues is the pairs quest to find her father. As the story unfolds these two teens who have been through so much, fall in love in the midst of dark times and terrible hardships. Their travels in search of her father lead them to a battlefield and a cave where they take up temporary residence and nurse wounded soldiers back to health. Thus begins Angus' personal journey as he grapples with challenges and trials that will test him and shape him.
Mike Hartner delivers in a young-adult book that is rich in historical details and large on adventure.The author does an exceptional job of making readers care about his main character, Angus. They become emotionally attached to Angus as a young adult and invested in the story as he progresses through middle aged adulthood. Utilizing war torn Scotland as the backdrop Mike Hartner has delivered a gem of a historical fiction novel certain to please many a young adult reader.
I, Angus is another addition to author Mike Hartner's The Eternity Series.  Each of the books tells its own story so they can be read as stand-alone volumes. The author presents a main character readers will become emotionally invested in. Set in war torn Scotland and rich in medieval lore with castles and kings and knights, this story will surely please many young adult readers.