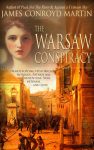 Publisher: Hussar Quill Press (2012)
Buy the book now at:

Amazon
Author's Website
This gem could be read as a stand-alone novel even though it is James Conroyd Martin's conclusion to his gripping historical saga on Poland. The Warsaw Conspiracy  is preceded by Push Not the River and Against a Crimson Sky; you do not need to read the first two books in the trilogy to appreciate and enjoy it, but why would you cheat yourself out the total immersion?
The book covers the Polish revolt of the 1830's, known as the November Rising or the Cadet Revolt. Martin uses this tumultuous time in Polish history as the backdrop for his sweeping novel. It starts with an armed rebellion of young Polish officers in Warsaw and soon grows as the cadets are joined by other Polish sympathizers in a grandiose stand against the Russian Empire. The uprising is ultimately crushed by the Russian Army and Poland is placed firmly under Russian control. Martin expertly weaves historical figures and events with a cast of fictional characters that carry the story through to its emotional end.
Martin centers his tale on one extended family giving the story the feel of a family saga set within the greater true-to-life struggle of a nation. This method lends well to the overall scope of the work and the overarching story contained within the pages of this lengthy 510-page novel. Yes, like the other novels in this saga, this book is huge, and will not disappoint readers who love to curl up with a thick juicy novel.
The family dynamic is a key to the success of this novel. In particular, the relationships centered on Anna, one of the main characters, were fleshed out well, and in effect made her one of the book's more endearing characters. To drive the story, Martin gives us an excellent Villain we love to hate: Viktor, the head of the Russian secret police, who is as complex and intriguing as he is dastardly. A family man who lovingly kisses his family goodbye in one scene, and in the next, we see him torturing Poles under the guise of extracting confessions. Add to the drama, brothers Mical and Jozef who find themselves caught up in a plot to capture the Grand Duke of Russia. Here you have a story filled with gripping tension that builds throughout the book.
Author James Martin makes this well-known revolt in Polish history come alive, jump from the pages and captivate the reader. This book is nothing short of a true testimonial to the Polish people and their drive to remain an independent nation. Filled with unstoppable action, edge-of-your-seat suspense, and unforgettable characters, this breathtaking page-turner will remain with readers long after they close their books.