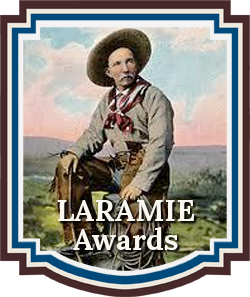 The LARAMIE Awards Writing Competition recognizes emerging new talent and outstanding works in the genres of  Western Fiction. The Laramie Awards is a division of Chanticleer International Novel Writing Competitions.
More than $30,000.00 dollars worth of cash and prizes will be awarded to Chanticleer Book Reviews 2016 writing competition winners at the Chanticleer Authors Conference April 1, 2017!
The Laramie Awards FIRST IN CATEGORY sub-genres  are:
Western Romance
Adventure/Caper
Classic
Civil War/Prairie/Pioneer
Contemporary Western
Western Young Adult
This is the OFFICIAL LIST of Finalists Authors and Titles of Works that have made it through the first cut of the Laramie 2016 Novel Writing Contest.
The following titles will compete for the 2016 Laramie SHORT LIST:
Miantae Metcalf McConnell – Deliverance, Mary Fields, First African American Woman Star Route Mail Carrier in the United State
Barbara Salvatore – Magghie
Deborah Hufford – Blood to Rubies
Jacquie Rogers – Hot Work in Fry Pan Gulch (Honey Beaulieu – Man Hunter #1)
JD Harper – Glint
T.M. Hinton – The Judas Steer
Bruce Graham – Green Mountain Gunfighter
Jared McVay – Stranger On A Black Stallion
Alethea Williams – Naapiikoan Winter
Lynda J Cox – Seize the Flame
David Selcer – Lincoln's Hat
Teresa Healy Janssen – The Ways of Water
Jacqui Nelson – Between Love and Lies
David G. Rasmussen – The Man Who Moiled for Gold
Juliette Douglas – Perfume, Powder, and Lead: Holy Sisters
Sara Dahmen – Becoming Doctor Kinney
Jacquie Rogers – Much Ado About Mustangs (Hearts of Owyhee #5)
Anne Sweazy-Kulju – Grog Wars
Ashley E Sweeney – Eliza Waite
Dorothy Wiley – Frontier Gift of Love
Jim Stempel – Windmill Point
John R. Green, Jr. – Vladimir Petrov, an American Life
Bert Entwistle – The Taylor Legacy
Jeffrey Price – Improbable Fortunes
Jerry Bustin – Marshal Banner
Ken Farmer & Buck Stienke – Bass and the Lady
Barbara Salvatore – Big Horse Woman
Scott Eldon Swapp – Clevenger Gold: The True Story of Murder and Unfound Treasure
Joe Corso – Shootout in Cheyenne
Ronald E. Yates – Finding Billy Battles
Julia Robb – The Captive Boy
Harlan Hague – A Place for Mei Lin
The Laramie Finalists will compete for the SHORT LIST and then these author and titles will compete for the Laramie Awards First In Category Positions, which consists of Four Judging Rounds.  First Place Category Book Award winners will automatically be entered into the Laramie GRAND PRIZE AWARD competition, which has a cash prize of $200 dollars. The CBR Grand Prize Genre Winners will compete for the CBR Overall Grand Prize for Best Book and its $1,000 purse.   
As always, please do not hesitate to contact us with any questions, concerns, or suggestions at Info@ChantiReviews.com. 
Congratulations to the Finalists in this fiercely competitive contest! 
Good Luck to all of the Laramie Finalists as they compete for the coveted Short List.
The Laramie Grand Prize Winner and the First Place Category winners will be announced and recognized at the April 1, 2017 Chanticleer Writing Contests Annual Awards Gala, which takes place on the last evening of the Chanticleer Authors Conference that will be held in Bellingham, Wash. 
We are now accepting submissions into the 2017 Laramie Awards writing competitions for Western Fiction. Please click here for more information or to enter the contests.