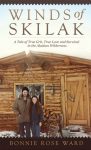 Publisher: Two Harbors Press (2013)
Buy the book now at:

Amazon
Author's Website
In this day and age of omnipresent cell phones and electronics, is it not the quintessential dream to quit one's day job to seek the peace and quiet of the last frontier and live off the land?
It wasn't necessarily Bonnie Rose Ward's dream, but her husband Sam's to move to Alaska for a pure existence. However, her deep love and admiration for her mate led her to check out library books on how to live in the wilderness and finally make the difficult decision to leave their home in Ohio for a tiny island on Skilak Lake on the Kenai Peninsula of Alaska.
In her beautifully written memoir, Winds of Skilak: A Tale of True Grit, True Love and Survival in the Alaskan Wilderness, Bonnie invites us into a routine that began in 1980 when she was 25 and Sam, 36. It's an engaging and inspiring story ripe for anyone who has merely dreamed of a new life or for those similarly courageous enough to take the leap to remote living.
Through Bonnie's intimate excerpts, we learn how the couple, and their friend Bob who tags along, lived on Caribou Island in self-built cabins without running water, electricity or a phone. They deal with isolation and sub-freezing temperatures along with making new wildlife friends like a milk goat named Esther. Bonnie steps out of her comfort zone and learns how to shoot a .375 Holland & Holland Magnum.
If you are wondering what a grocery list would look like for such an adventure, you're not alone. The following passage is labeled a 'Popular Highlight' in the Kindle edition:
"We bought what we figured to be a year's supply of dry goods," Bonnie writes. "These staples included two hundred pounds of flour, a hundred-pound burlap bag of pinto beans, fifty pounds of sugar, thirty pounds of cornmeal, fifty pounds of rice, twenty pounds of noodles, several gallons of cooking oil, honey, powdered milk, salt, pepper, spices, baking powder, yeast, tea, several cases of three-pound cans of coffee, and powdered creamer. Anything else we needed must come from the land—must be what we could hunt, fish or grow."
In one episode amid their remote homestead, we learn what most likely influenced the book's title of "true grit" and "true love," both of which were prerequisites for the trio to survive the ensuing frost. A devastating logging accident puts Sam in the hospital and sidelines him as he accepts a painful recuperation. Meantime, the misfortune tests Bonnie's faith in God (and in Sam), as she tells us with heartbreaking honesty:
"A brisk cold wind greeted us as we stepped out of the doctor's office that day— a stark reminder that summers are short in Alaska," she writes. "We had forty dollars left. It was all the money we had in the world, with nothing else coming. It couldn't get worse. We were broke and living in a pup tent with winter on the way."
Fortunately, with the determination that got them out there in the first place, the couple sees the sun shine again. Through astute observations and crisp writing, Bonnie takes us on their 15-year wilderness journey treating us along the way to the Alaskan landscapes:
"After that first day, the clouds vanished from the mountains, and all remnants of foul weather fled from a sun-drenched sky. Skilak Lake calmed and grew at peace with itself. I stood at the water's edge struck by the pristine beauty all around me. The color of the lake changed like a giant mood ring from a milky green to a brilliant peacock blue."
According to Bonnie's website, which she maintains to promote the book, the couple has since moved to West Virginia to live a self-sufficient lifestyle on a farm where they enjoy raising goats and chickens and gardening and canning vegetables. Despite their exodus to the lower 48 to live closer to family and friends, Skilak Lake will always be in their hearts as it "has left its imprint deep within us and no matter where we go or what we do, neither time nor distance will ever change that."