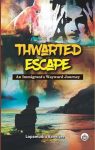 Publisher: Authorspress (2016)
Buy the book now at:

Amazon
Author's Website
In her book, "The Art of Memoir," Mary Karr recalls hearing novelist Don DeLillo once say that a fiction writer starts with meaning and then manufactures events to represent it, whereas a memoirist starts with events, then devises meaning from them.
Lopamudra Banerjee does just that in her memoir "Thwarted Escape: An Immigrant's Wayward Journey." She takes us through a journey of achievements and sorrows while using words to make meaning of her spirituality, her femininity and her literary identity.
Broken down into four volumes, the book is a collection of essays and articles, many of which were previously published in print, online anthologies and literary journals.
Depending on which chapter you're reading, you could say Banerjee is a memoirist, a creative writer, an essayist or a journalist. But no matter what label you choose for her writing, you will see Banerjee has major writing talent – the culmination of a passion that was borne at an early age when she considered words her playmates.
"I have been in love with these moments of restlessness and release as these clusters have formed a pattern called words. I watched this written world of prose and verse, as with my hands, my body, I absorbed these nuances of creation," she writes.
Through the pages, Banerjee transitions from a small town girl in India who makes her way to the United States. She has traveled to many places throughout the US and in one chapter where she derives the book's title, "Thwarted Escape," she talks about her departure to Omaha, Nebraska, as in this stirring passage: "I am an ordinary, commonplace refugee in North America, and like many others of my ilk, have embedded myself in a family, far flung from what is called 'original home.' Like many others, I am striving to gain the status of the coveted Non-resident Indian, a legitimate work permit to survive in a distant land while my heart continues to ache with the desire to be rocked in the bosom of my mother and to revisit the havens of my childhood."
With the power of narrative in her life, Banerjee lives with the secret ambition to "get published" and to let the world read her stories. Thankfully, she has fulfilled her dream of compiling such a book and sharing with us her engaging and well-written stories of grief, death in her family, motherhood, and femininity.
In a particularly moving section of the book, Banerjee introduces us to Taslima Nasrin, a Bangladeshi novelist and poet who has lived in exile since 1994 amid death threats for her outspoken feminist views and criticism of Islam. With admiration for Nasrin's voice, Banerjee includes newspaper clippings (scans from the original print versions) of Nasrin and explains some of the abuse and hardship the activist has endured. As a graduate student of English literature, Banerjee harnesses Nasrin's power and draws parallels to other literary greats.
"I realize how
[Virginia] Woolf, how Taslima [Nasrin], how Sylvia Plath, trapped and tangled in a women's bodies, have suffered the heat and passion of their literary selves…"
Banerjee ends the book with letters she wrote to her family and other people while she was pregnant and during other periods in her life. We readers are grateful Banerjee has found the courage and energy to publish all of these personal stories that are so moving, eloquently written, and significant in both her life and the lives of women.