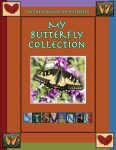 Publisher: Regent Press (2016)
Buy the book now at:

Amazon
Author's Website
There are approximately 20,000 species of butterflies around the world, and this enlightening book is a compilation of all things butterfly. As well as delivering in-depth explanations of butterfly life cycles and species, the author, Stevanne Auerbach, PhD, teaches us that specific species are dependent on specific plants, and that butterflies need both host plants for caterpillars and nectar plants for the adult butterflies. Perhaps the most important lesson is that butterflies of the world are now dependent on us, the human species, for their very survival.
To help readers become butterfly protectors, the author provides lists of suggested plants gardeners can grow to nurture butterflies dependent on species and geography. After reading this book, no gardener will look at caterpillars in the same way again, because killing a caterpillar means destroying a beautiful butterfly, moth or bee.
The largest words on the cover of this book are My Butterfly Collection, which might cause readers to expect a book about an old-fashioned collection of preserved butterfly specimens on pins. Instead, this book is a tribute to the lives and worth of butterflies, as well as a celebration of the beauty and symbolism of butterflies through history. The "butterfly collection" actually refers to the author's extensive personal journey, which led to her assembly of all this butterfly information, and objects decorated with butterfly motifs.
The book contains lists of endangered and threatened species, as well as many color photographs of specific butterflies, most by famous photographer Kjell B. Sandved. The interconnection of butterflies and environmental health is emphasized in a moving foreword by David Seaborg, a prominent evolutionary biologist and founder/director of the World Rainforest Fund.
Readers are treated to explanations about how butterflies have symbolized hope, transformation, and resurrection throughout the ages. The author even describes how she went through her own personal metamorphosis to become a lighter, healthier, happier individual.
Bright art, illustrations, and paintings decorate the pages, which are also enriched with poems and literary excerpts from a variety of authors, including the author of this book. Some pieces are inspirational and uplifting; a few are eloquent, but sad, such as a reference to a collection of butterfly art and poetry by Jewish children imprisoned in a concentration camp.
This rich collection includes extensive lists of organizations, gardens, and butterfly books for adults and children, field guides, butterfly garden books, and websites that the butterfly devotee can use to find more information. The biographies of the many experts who contributed to this book are listed in the back pages, along with a list of butterfly species around the world that may go extinct; a sobering reminder that butterflies are an indicator species of the health of our planet, and the fate of these magnificent "flowers on wings" is up to us.
My Butterfly Collection: On the Wings of a Butterfly by Stevanne Auerbach, is a fascinating compendium of all things butterfly that educates and illuminates to its readers that "The health of the planet rests on the wings of the butterfly."