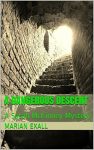 Publisher: Marian Exall (2015)
Buy the book now at:

Amazon
Author's Website
A hectic life, a missing daughter, love lost and found come together in this spellbinding mystery thriller, Miriam Exall's second book in the Sarah McKinney series, A Dangerous Descent. 
Sarah McKinney, a witty, hard-working New Yorker, is whisked off to France to help her old mentor find his long lost daughter in the second book of this thrilling mystery series.
Sarah McKinney was happy with her chaotic life as a mediator in New York, where the most complicated thing she had to deal with was her love life. When she meets up with an old mentor, she doesn't expect the meeting to end with her hoping a plane and flying halfway across the world.
But hop that plane she does, to help out her mentor fulfill his promise to his dying wife: locate their estranged daughter living in France. But finding Chantal isn't easy. She's not where she's supposed to be. With urgent business back home, Sarah's mentor pleads with her to find his daughter. She agrees and with the help of an old flame, she's off to locate the missing girl.
But finding Chantal proves more difficult than expected and Sarah finds herself chasing leads down dangerous paths.
Marian Exall's A Dangerous Descent is a captivating mystery that skillfully keeps the reader glued to the page. The book starts out with a light tone that tricks readers into thinking they are following the witty escapades of a New Yorker, only to find the journey darkening and becoming much more dangerous as the story progresses.
But the immediate likeability of Sarah, as well as her touching relationships, keeps the novel positive. Readers will smile as often as they grip the seat of their chairs.
Indeed, Sarah's narration is perhaps the best part of the novel and she remains worth rooting for throughout the story. Her traumatic childhood has left her tougher than a bed of nails, and she keeps her wits about her during terrifying situations. Exall masters the characterization of Sarah, portraying her as a sharp, collected professional against the foil of Chantal's bizarre disappearance.
Exall's writing is sharp and well-paced, with natural dialogue and gorgeous descriptions of setting. So much so, the reader is bound to feel as if they are in France as well!
A Dangerous Descent is Book 2 of a thrilling mystery series with a soft-spot for tender-hearted lovers.