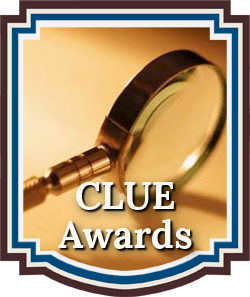 The CLUE Awards Writing Competition recognizes emerging new talent and outstanding works in the genres of  Thriller and Suspense Novels. The CLUE Awards is a division of Chanticleer International Novel Writing Competitions.
More than $30,000.00 dollars worth of cash and prizes will be awarded to Chanticleer Book Reviews 2016 writing competition winners at the Chanticleer Authors Conference April 2, 2017!
The CLUE Awards FIRST IN CATEGORY sub-genres  are:
Suspense/Thriller
Detective/Crime
Private Eye/Noir
Legal/Medical/Police Procedural
Spy/Espionage
The following titles will compete for the Short List (Semi-Finalists) Positions.
This is the OFFICIAL FINALIST POSTING of Authors and Titles that have made it to the Finalist List of the CLUE 2016 Novel Writing Contest. Good luck to all as the works compete for the 2016 CLUE SHORT LIST!
Craig Anderson – Grabbed and Gone
Ken Baysinger – El Camino
Phillip Buchanon – Sexual Departure 
Timothy Burgess – The Never-Ending Swell
Pamela Crane – A Secondhand Life
Elaine Williams Crockett – Do Not Assume 
Don Daglow – The Fog Seller
Dermot Davis – Fatal Eclipse
Denise Dearth – Blind Redemption
Joshua Andrew Dickson – Canon
Donna Dillon – Dreamcatcher Chronicles: Little Girl Lost
Keith Dixon – The Innocent Dead
Jack and Sue Drafahl – D.N.A.
Gregg Dunnett – The Wave at Hanging Rock
A.S.A. Durphy – The Thing Speaks for Itself
Lonna Enox – Striking Blind 
Danielle Esplin – Give It Back
Alan J. Field – The Chemist
Zach Fortier – Baroota: The Hunting Ground
Patrick M. Garry – The Illusion
John Herman – My Father's Son
Clint Hollingsworth – The Sage Wind Blows Cold
Tina Meggs Keller – Baptism by Fire
Matt Kilby – The Road Cain Walks
Christopher Leibig – The Black Rabbit
Christopher Leibig – Almost Mortal
Christopher Leibig – Montanamo
Michael Byars Lewis – Veil of Deception
Kara Lumbley – Never Alone
LS Cahn – The Trus Game
Ken Malovos – Fatal Reunion
James Marshall Smith – Silent Source
Kaylin McFarren – Banished Threads
A.B. Michaels – Death Runs on Time
A.B. Michaels – Sinner's Grove
A.B. Michaels – The Lair
M. Ruth Myers – Maximum Moxie
Toby Neal – Wired In
Dana Ridenour – Behind The Mask
Bjarne Rostaing – Epstein's Pancake
Janet Shawgo – Archidamus
Ben A. Sharpton – 2nd Sight
James G. Skinner – The Goa File
Lee Strauss – Gingerbread Man (A Marlow & Sage Mystery – A Nursery Rhyme Suspense)
E.V. Stephens – Accountable
Cary Allen Stone – After the Evil: A Jake Roberts Novel, Book 1
Susan Strecker – Nowhere Girl
Luke Swanson – The Ten
Keith Tittle – A Matter of Justice
Lawrence Verigin – Seed of Control
Timothy Vincent – Prince of the Blue Castles
Jim Weber – Jehovah: A Novel
P. K. Williams – Buried Beneath
Manning Wolfe – Dollar Signs: Texas Lady Lawyer vs Boots King
DM Wolfenden – Carly
As always, please do not hesitate to contact us with any questions, concerns, or suggestions at Info@ChantiReviews.com. 

Congratulations to the Finalists in this fiercely competitive contest! 
Good Luck to all of the CLUE Finalists as they compete for the coveted First Place Category positions.
First In Category announcements will be made in our social media postings as the results come in.
The CLUE Grand Prize Winner and the First Place Category winners will be announced and recognized at the April 2nd, 2017 Chanticleer Writing Contests Annual Awards Gala, which takes place on the last evening of the Chanticleer Authors Conference that will be held in Bellingham, Wash. To be present when your name is called, register for the Chanticleer Author Conference.
We are now accepting submissions into the 2017 CLUE Awards writing competitions for Thriller, Suspense & Mystery Fiction. Please click here for more information or to enter the contests.