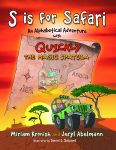 Publisher: Dancing Mommy Press (2016)
Buy the book now at:

Amazon
Author's Website
Quickly, the Magic Spatula has returned in an engaging new book by award-winning authors, Miriam Kronish and Jeryl Abelmann. Illustrator Daniel J. Seward playfully portrays Quickly in white sneakers sporting a bright red 'Q' and brings Quickly, PanDora, and their new friend Ponnie to life with sparkling eyes and action poses. His animal illustrations are both accurate and charming.
After greeting us with a big "Hello!" Quickly explains that Ponnie, a spatula that he and his old friend PanDora met last year, has invited them to visit his country, South Africa. He will be their safari guide, driving their smiling green jeep as they make their way around the land to "visit the animals and learn their names" [each one representing a different letter of the alphabet] and "see the country [with sights representing a letter] and play some games."
Kronish and Abelmann's alphabet stories, which proffer a few simple facts about the animals and places, are written in the most delightful verse. Rhyming words are here, there, and everywhere! For example: "B stands for Buffalo…If you look at its back, you'll find a tiny bird. No, it's not absurd to find a bird. The oxpecker is its name. What a wonderful word! And the buffalo loves to be part of the herd." Another favorite, "H stands for Hippo—Hippos love to play in water. Don't you think they oughtta?" Then there is "Victoria Falls—where the water never stops falling, and the mists never stop rising. It's not so surprising." Finally, the safari party meets the Zebra, which "gallops like a horse, and is related to a donkey, of course!"
The safari is over. It's time to go home. As a parting surprise, Ponnie gives his friends a recipe for the South African Pannekoek, or pancake, which Quickly shares with us.
Quickly's safari adventure is a delightful way to introduce children to new vocabulary words, geographic information, and learn about African animals. The handy games make learning this new information fun and entertaining. And the captivating rhymes will have young readers giggling as they repeat the verses.
Next, children and adults will have a lot of fun with "Quickly's Safari Adventure Coloring & Activity Book." And, if you haven't already read them, "Quickly, the Magic Spatula" and "Quickly's Magical Pancake Adventure" will fill you in on the story of how Quickly came to life and his earlier adventures.
Quickly, the Magic Spatula
A surefire way to make a children's book a favorite is to mix a bit of truth with a bit of magic, and that's just what Jeryl Abelmann and Miriam Kronish have done in the award winning "Quickly: The Magic Spatula." Chason Matthams's illustrations further enliven the story with their unique design and bright color.
Big sister and younger brother, all grown up, are searching for mementos in the attic of their childhood home when they come upon a dusty box marked 'kitchen utensils'. Pulling the cardboard flaps open, something catches their eyes, and they both shout "Quickly! It's Quickly!" An old spatula—its metal bent and dulled, and the green paint on its handle almost peeled off. But in an instant, brother and sister are young again, once more in Mommy's sunny kitchen.
Mommy's delicious pancakes are sizzling in the pan, as always on Sunday mornings, and the children eagerly awaiting a plateful. Suddenly Mommy cried "Jeffrey! Please bring me the spatula—quickly!" Jeffrey grabs the sparkly, green-handled spatula and, running across the kitchen, hollers "Here's Quickly, Mommy!" Four-year-old Jeffrey thinks the spatula was named Quickly!
Discovering that he has a name brings the spatula magically to life. Quickly, the spatula is now convinced that he possesses the magic to make Mommy's pancakes taste better than ever. And sure enough, Quickly's magic works!
For children as well as adults, giving life to an inanimate object can create magic in a story—or two or three. Quickly, the Magic Spatula gives us pause to consider the beloved objects in our daily lives that create magical memorable moments—a great way to start a conversation with children! The story is also a much needed reminder to busy adults just how special simple rituals can be to children and the memories that create can last a lifetime.
Be sure to follow Quickly's continuing story in "Quickly's Magical Pancake Adventure" and "S is for Safari: An Alphabetical Adventure with Quickly, the Magic Spatula." Then have fun with "Quickly's Safari Adventure Coloring & Activity Book."
Quickly's Magical Pancake Adventure
Miriam Kronish and Jeryl Abelmann's lovable character, Quickly, the Magical Spatula, returns in Quickly's Magical Pancake Adventure. In this story, his magic extends beyond helping Mommy make Silver Dollar pancakes in her sunny kitchen. Quickly decides to see the world and meet other spatulas who make different kinds of pancakes. But there is more magic at work in this book, with the power to pique young readers' interest with not just an engaging story, but also what could become an enjoyable activity for the whole family!
Eager to begin his next adventure, Quickly wiggles out of the frame in which Jeffrey and his sister had placed him. He hops out the window and sets off on his adventure. Soon he meets up with a friendly fellow spatula, who introduces himself as Backburner, the Pancake Turner, or just Bernie. He is a pancake historian, on the lookout for new facts about pancakes, and invites Quickly to join him.
The new friends head down the road until they see a large colorful sign: "Calling All Spatulas to the First Annual Spatula Camp." Heading for the Grand Exhibition Hall, they join a crowd of spatulas—of all shapes and colors—deciding which sessions to attend: pancake recipes and tips, pancake songs and stories, pancake makeup (like cherry cheeks and blackberry brows), or Great Chefs' Pancakes, at which each chef will share a special recipe.
While at the camp, Quickly collects recipes from the chefs, while Bernie picks up griddling tips. Then they join a group of spatulas listening to PanDora tell the story of Pancake Day in the UK. Quickly muses about a world in which all people belong to one big, happy pancake-eating family. Inspired, he writes "A Pancake Poem" to share with his new friends.
Quickly suddenly realizes it is time to go home. In less time than it takes to say 'Quickly, the Magic Spatula', he lands on the kitchen counter (where, as you will see, the book's respected illustrator, Chason Matthams, has laid out all the ingredients for Mommy's Silver Dollar pancakes). Before Quickly climbs back into his frame, he compiles his collection of famous pancake recipes just for his readers including one from one of my favorite chefs, Jacques Pepin.
Young readers will be happy to know that "Quickly, The Magic Spatula" and the new (2016) "S is for Safari: An Alphabetical Adventure with Quickly, the Magic Spatula", and the beautiful coloring/activity book, "Safari Adventure Coloring & Activity Book" are available for more fun and adventures.