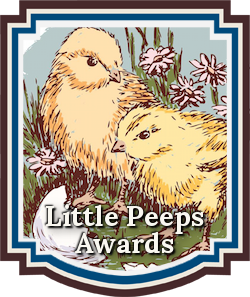 The LITTLE PEEPS Writing Competition recognizes emerging new talent and outstanding works for Early Readers and Children's Picture Books.
The Little Peeps Awards is a division of Chanticleer International Writing Competitions.
More than $30,000.00 dollars worth of cash and prizes will be awarded to Chanticleer Book Reviews 2016 writing competition winners!
The Little Peeps Book Awards for FIRST IN CATEGORY sub-genres are: Early Reader Chapter Books, Story Books, Picture Books, Activity Books, Educational Books.
The following titles will compete for the FIRST IN CATEGORY Positions and Book Awards Packages.
The Finalists Authors and Titles of Works of the Little Peeps Early Reader Book Awards 2016 Writing Contest are:
Simon Calcavecchia – The Adventures of Frank and Mustard: Stuck in the Mud
Kneko Burney – Rikki & the Rocket Twins Adventure 1: Discovering the Solar System
Barbara Layman – Day Dreamer and the Sleeping Giants
Becky Thaldorf Latka – My Grandma Makes Lefse
Pam Atherstone – The Dog in Wolf's Clothing: Anya Faces Her Fears and Finds a Friend
Cris Harding – Wee Scarlet
Denise Ditto – The Tooth Collector Fairies, Batina's Best First Day
Donna Washington – The Mouse, The Mole, and the Magnificient, Moss-Covered House
Sara Dahmen – The Blue Beetle
Phillip Buchanon – Little Phil's New Money Friends #2
Phillip Buchanon – Jenny Meets Penny #9
Doretta Elaine Wilson – Chocolate Gravy on Dragon Creek
The Little Peeps 2016 Finalists will compete for the Little Peeps Short List.
As always, please do not hesitate to contact us with any questions, concerns, or suggestions at Info@ChantiReviews.com. 

Good Luck to all of the 2016 Little Peeps Finalists as they compete for the coveted Short List positions.
The Little Peeps Grand Prize Winner and First in Category Winners will be announced at the April 1st, 2017 Chanticleer Writing Contests Annual Awards Gala, which takes place on the last evening of the Chanticleer Authors Conference that will be held in Bellingham, Wash. 
We are now accepting submissions into the 2017 Little Peeps Book Awards writing competition. The deadline for 2016 submissions was May 31st, 2016. We are now accepting submissions into the 2017 Little Peeps writing competition. Please click here for more information.