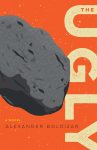 Publisher: Brooklyn Arts Press (2016)
Buy the book now at:

Amazon
Author's Website
Words thrown as hard as boulders are easy to catch – if you've had practice. Just ask our hero, Muzhduk the Ugli the Fourth in Alexander Boldizar's new release, The Ugly.
In the great tradition of existentialism, Boldizar brings us a book that is hard to classify. It has aspects of the existential with a fair amount of satirical wordplay and a bit of theater of the absurd thrown in.
An interconnected story of a Siberian Slovak tribal leader looking for a way to save his land and his people, via Harvard Law School and the Tuareg uprising in Africa. Oh, and there's dark magic and Winnie the Pooh thrown in as well.
Muzhduk the Ugli the Fourth is a mountain of a man who comes from a tribe of Siberian Slovaks where honor is found in throwing boulders-yes, actual boulders-and either causing great damage to one's opponent or catching said boulders without physically breaking.
When his tribe has their land taken through the clever use of legal wrangling by an American lawyer, Muzhduk heads (on foot) to Boston to attend Harvard Law School. On the way, he floats on an iceberg to the Bering Sea, plays rugby for a college in Canada, and gets a perfect LSAT, which ushers him into Harvard where he hopes to learn the words that will help him win back his land for his tribe.
It is during this part of the story that the wordplay and Muzhduk's obvious lack of "sophistication" are most enjoyable. In this first year in law school, Muzhduk observes how words are used to challenge and crush the students, much like the boulder throwing at home. This extended metaphor of words as boulders that can be thrown and cause damage, especially in the world of law where words can be twisted and used within the multiple connotations, is where the book finds its best rhythm and is most enjoyable. It is also where Muzhduk meets an odd assortment of professors and students.
Interspersed throughout the third person, past tense narrative of Muzhduk's first year as a One-L at Harvard, is the first person account of his travels in Africa, looking for Peggy, his American girlfriend who has been kidnapped (or perhaps not) by the Tuareg in their war with the government.
This part of the novel unfolds like layers of an onion. As the One-L year continues chronologically, Muzhduk's journey in Africa and his reason for being there unfolds with new layers of complexity. Even now, Muzhduk discovers that the dangerous game of words as crushing boulders still is in play, but there are added dangers as well.
There were times in this novel that it felt reminiscent of Heller or Beckett, as Muzhduk is challenged to understand the strange culture of Harvard Law and also navigate his way through a tribal uprising to accomplish his goals. In both places, Harvard and Africa, the story abounds in wordplay and existential ponderings. Just like reading Beckett or Heller or Buber (there's a reference to his I-Thou theory in the book), or any other existential writer, The Ugly isn't for everyone and it's not an easy read. This eccentrically irreverent work, absurd in the very best sense of the word, will amuse and enlighten.
Alexander Boldizar is the first post-independence Slovak citizen to graduate with a Juris Doctor degree from Harvard Law School. Born in Czechoslovakia (now the Slovak Republic) in 1971, he resides in Vancouver, British Columbia Canada where he writes, works his mad skills in the economic community of Wall Street, and brings meaningful commentary as an art critic. His writing has won the PEN / Nob Hill prize, represented Bread Loaf as a nominee for Best New American Voices, and been shortlisted for a variety of other awards. He has published over one hundred articles in a variety of venues. He states that his freelance writing pays for his son's circus school.