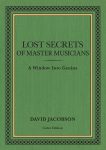 Publisher: SFIM Books (2016)
Buy the book now at:

Amazon
Author's Website
Told with assurance and passion, a tale of one man's lifelong journey to connect with his own musical and artistic aesthetic unwinds across decades and touches upon the techniques of some of the best known musicians of modern times. Classically trained musicians and amateurs alike will find the techniques discussed in Lost Secrets of Master Musicians thought-provoking.
In a chronological and easy-to-follow fashion, Mr. Jacobson begins by providing background for his insight into the existence of these lost secrets, describing his own introduction into musical study and detailing his experiences with various well-known mentors, eventually culminating with his study at the prestigious Curtis Institute while still a young teen.
While not every classically trained musician or music educator will agree with his conclusions, Mr. Jacobson has the undeniable pedigree and real life experience to discuss the techniques of fine playing, specifically of the violin, and successful music pedagogy within his genre.
Lost Secrets of Master Musicians attempts to answer the promise of its title. Any musician who has spent time studying the twentieth century masters: Jascha Heifetz, Nathan Milstein, and David Oistrakh, Vladimir Horowitz, and Glenn Gould will find their interest piqued by the re-discovery of playing techniques that Mr. Jacobson puts forth in his insightful and revealing, and yet, what some musicians may consider controversial, treatise.  
As a performer, Mr. Jacobson begs the musician and the reader to recognize what has been lost and how it can be recovered. The included photographs of proper position when playing the violin aid in the many points covering body symmetry, tone in playing, and what is referred to as "mind/body flow."
Individual chapters are devoted to an instrument's intrinsic value apart from the player, the role of authority in the face of the conductor or mentor, and the composer's role in the modern repertoire. Each are examined through the lens of Mr. Jacobson's new approach before the approach itself is compared to that of the well-known and controversial Suzuki Method, as well as Galamian instruction, a method of violin pedagogy found at both Juilliard and the Curtis Institute.  
Mr. Jacobson's unique idea, what he has termed the "bel canto instrumental technique," eschews the idea of individual musical talent in favor of exploring–and challenging–how music itself is approached and taught from the most basic level of instruction to the pinnacle of performance.  
A Curtis Institute graduate, Mr. Jacobson also holds a Master of Music Performance degree from Boston University and is the founder and director of the San Francisco Institute of Music.