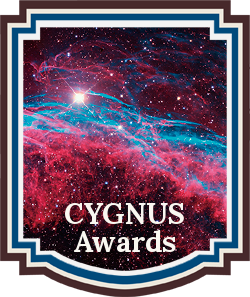 These titles are in the running for the 5 First Place Book Awards for the 2016 CYGNUS Science Fiction Novel Writing competition!
Congratulations to these authors for their works moving up from the 2016 CYGNUS Finalists to the Short List. The novels will now compete for the First Place Category Positions!
These titles have moved forward in the judging rounds from SLUSH pile to
FINALISTS LIST
of 28 titles, and now has moved forward to the SHORT LIST of 15 titles for the 2016 CYGNUS Book Awards. They are now 2016 Cygnus Semi-Finalists as they compete for the limited First in Category Positions of the 2016 CYGNUS Book Awards in the last rounds of judging.
Each of the titles below have earned the CYGNUS AWARDS SHORT LIST bragging rights!
Jonathan Renshaw – Dawn of Wonder
Robert L. Slater – Straight Into Darkness
Sean P. Curley – Over
K.N. Salustro – Unbroken Light
Greg McLeod – King of Dreams
Nikki McCormack – Dissident (Forbidden Things Book One)
Gary Grossman – OLD EARTH
Elizabeth Crowens – Silent Meridian: The Transparency of Time
Ryan London – Prophecy of the Immortals
Cyril Adams – The Peace Proxy
L. Woodswalker – Tesla's Signal
Jesikah Sundin – ELEMENTS (The Biodome Chronicles #2)
Jim Musgrave – Life in 2050
Dennis M. Clausen – The Accountant's Apprentice
Sara Stamey – The Ariadne Connection
Stephanie R. Sorensen – Toru: Wayfarer Returns
Tiffany Pitts – Wizzy Wig
Rhett C Bruno – Titanborn
Good Luck to each of you as your works compete for the CYGNUS Awards  First Class Category Positions. 
We hope to see you at the Chanticleer Awards Banquet on April 1, 2017.