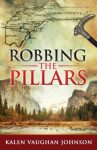 Publisher: Five Star Publishing (2017)
Buy the book now at:

Amazon
Author's Website
When James MacLaren flees his native Scotland, he leaves a body behind – but not his hatred of the upper class.  In England, he meets and weds Emma, but will the skeletons in their shared past remain silent?
Robbing the Pillars crosses the Atlantic and lands in Nevada City, California at the beginning of the Gold Rush, amidst the discovery of seemingly endless supplies of the precious mineral. James and Emma, now with their young daughter Charlotte, come out to California by wagon train accompanied by Emma's best friend, Althea and her son Justin.
Along the way and upon arrival in the region, they meet friends and ruffians including an entrepreneurial chancer with a conscience, an inveterate loser with a taste for alcohol and his eye fixed on Althea, and a Mexican who finds that MacLaren is the first white man he can trust.
MacLaren involves himself in mining, engineering, and homesteading while Emma and Althea get a taste of town life and community activism. Their children meanwhile are growing up with a sense of true freedom that their European-born parents could never have known. In pursuit of his personal quest, Justin will come up against Althea's past; and the beautiful, willful Charlotte and her father must learn to live with the pangs of lost love.
Meanwhile, the territory is changing rapidly. Big men with big ideas are taking an interest in the fate of the new state and move to monopolize its resources. Into this mix, author Vaughan Johnson has expertly interwoven both fictional characters and real "empire barons" such as Leland Stanford, Collis Huntington, and Mark Hopkins into her epic tale.
This first part of a planned series ends with the rumbling of war that splits the nation and brings about a sad parting that begs for a reunion in a later volume.
Author Kalen Vaughan Johnson has created a large canvas; her knowledge of the region—its history, the mix of cultures, the lilt of varied accents, even the cuisine—highlights her obvious talent for creating richly detailed historical fiction. The title, for example, references an arcane aspect of mining in which, as the miners retreat from a played out vein, they risk dislodging the roof pillars as they go, endangering their lives ferreting out every last flake of gold. Johnson depicts with equal verve and realism the lives of the rich, the wannabes, and those at the bottom struggling upward.
A sweeping look at personal idealism and autonomy pitted against the forces of greed and manipulation, Robbing the Pillars is an emotive family saga solidly rooted in the American dream.