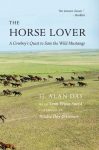 Publisher: University of Nebraska Press (2014)
Buy the book now at:

Amazon
Author's Website
Thousands of wild mustangs now have a sanctuary to call home thanks to one man: H. Alan Day. This is his story.
Perhaps you've heard of a horse whisperer: a person who gently and patiently communicates with an animal. Multiply that by 1,500 and you have H. Alan Day, a cattle rancher from the southwest turned horse herder who takes on what would seem to be an unimaginably huge project.
The Horse Lover: A Cowboy's Quest to Save the Wild Mustangs, is Day's story of Mustang Meadows Ranch in the Sand Hills of South Dakota, the first government-sponsored wild horse sanctuary established in the United States.
In beautifully vivid prose, Day transports us to the prairie, as in this passage: "The sun highlighted the horses, now twelve hundred strong, creating a canvas of golds, bronzes, beiges, blacks, and deep browns that stretched out before me."
Day's youth played a critical role in his success and interest with horses as he grew up on a 200,000-acre cattle ranch straddling the high deserts of southern Arizona and New Mexico. After college, he returned to manage Lazy B, the family ranch, for the next 40 years. Later, he (hesitantly) purchased 35,000 acres in South Dakota and dedicated it as a horse preserve for 1,500 wild mustangs. Relying on a herd medication program he used at Lazy B, he trained the group of mustangs, those considered unadoptable, to follow a lead horse from the wild through the gates and into the horse meadow.
However, it wasn't always easy. Initially, Day scoffed at the idea. "Come on, wild horses? I was a cattle rancher…"
Thanks to a heartfelt and informative introduction by his sister, Sandra Day O'Conner (the first female US Supreme Court Justice who retired in 2008 after 25 years on the bench), we learn that wild mustangs, formerly running free, breeding and multiplying, were being captured, sold, or destroyed. The Bureau of Land Management (BLM) took care of many of them; however, the remainder was considered unadoptable.
Day remained stalwart facing dangers, frustrations, and heartbreak and had to deal with government red tape. Through his eloquent and moving story, he shows us the resolve and passion required for undertaking South Dakota ranching.
It's no surprise Horse Lover is well written and poignant; in 2002, Day partnered with his sister to co-author the family memoir, "Lazy B: Growing Up on a Cattle Ranch in the American Southwest," which went on to become a New York Times bestseller.
Horse lovers will not want to miss this book – and witness the magic of thousands of horses running wild. The rest of us will marvel at what Day was able to accomplish in this story of loyalty and hope.