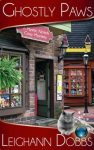 Publisher: Amazon Digital Services LLC
Buy the book now at:

Amazon
Author's Website
When murder comes to the sleepy hamlet of Mystic Notch, recently relocated crime journalist Wilhelmina Chance and her grandma's crime-solving cat jump into the case with two feet and four paws.
Mainly, Willa wants to start over. After her car accident left her with a temperamental leg and a strange ability to see ghosts, she hopes taking over her grandmother's bookstore in Mystic Notch will offer her needed peace. That is, until, with the help of her grandmother's cat, Pandora, Willa discovers Lavinia Babbage's body in the library basement.
When Lavinia's ghost appears to her, Willa not only finds out that Lavinia's death was no accident, but that someone in Mystic Notch is to blame. And Lavinia only leaves her with a few clues to determine who might have a motive to kill the local librarian.
What Willa doesn't know is that her cat, Pandora, is part of an elite species sworn to help humans—and that Pandora is just as intent on finding Lavinia's killer as she is. With Pandora's help, Willa starts putting the pieces of the puzzle together. She just has to hope that her investigations don't get in the way of those actually getting paid to solve the crime—namely, her sheriff sister, Augusta, and the handsome but slightly intimidating sheriff, Eddie Striker (and his steely gray glances).
This is the first in Leighann Dobbs' "Mystic Notch: series, and the atmosphere Dobbs creates is exquisitely cozy. While there are a few hiccups in this debut novel, they can be forgiven as the series promises to deliver more enjoyable and affably cozy hours of reading–especially with a few of Dobbs' few magical flourishes thrown in. Mystic Notch is a town that any cozy mystery fan can look forward to hanging out in. The story is enjoyable overall, especially in the last third. The reveals are delightfully unpredictable, and the ending offers a satisfying conclusion.
The role of the cats also adds an intriguing element to the overall story and reveals important parts of the mystery in a way that not only fits with the plot but provides some surprises along the way. The cats also offer a significant source of humor, which is a winning element throughout the story.
This debut novel of the Mystic Notch mystery series is perfect for cozy mystery lovers and looking for a humorous and feel-good escape.