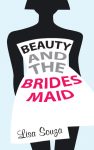 Publisher: Wet Coast Writers (2014)
Buy the book now at:

Amazon
Author's Website
Beauty takes a different a form in Lisa Souza's page-turning debut novel, Beauty and the Bridesmaid.
Dorothy (Dot) Lindell tags herself as a "relationship black hole." An overweight software geek with a loser love life whose only wish is to not die a virgin.
At her cousin's wedding, displayed in a tightly molded purple-ish taffeta gown, Dot feels she wins the award for the ugliest bridesmaid. To add injury to insult, Dot has lost hope of an amorous hookup since her escort, Kennedy J Kennedy is gay – and the life of the party. But when he offers to trade his image consulting services for her software know-how, Dot checks the box for a complete image overhaul.
What she doesn't realize is that her extensive overhaul is bigger, financially and physically and emotionally, than she could ever have imagined. If facial acid applications through a dermatologist aren't enough, Dot's personal trainer works her to death. Although it only takes her three and a half months to lose the weight through rigorous exercise program and her spanking-new meal plan, it all pales in comparison to the painful aftermath of plastic surgery.
As a result of her hard work and her surgeon's skill, Dot is NOT the same person, anatomically speaking, than before. Changing her moniker to her middle name, Alana (Dot) enters a new world of attraction. Among her many admirers, the first person to ask her on a date is none other than her heart-throb who didn't know she existed – even though they worked in the same office.
As told through Dot, Souza's first person narrative describes a young woman whose involvement as a bridesmaid is less than stellar for several reasons, hideously unflattering dresses near the top of the list. Beauty and the Bridesmaid is a fascinating story that will hit the nerve of women who have ever felt or been told that their physical appearance just isn't enough.
Souza's distinct cast encompasses a wide range of personalities. From the down-and-outers and geeks to the haughty, and those that are purely villainous, Souza has designed much of her figures to function as foils for the main purpose of shaping Dot's persona. Scenes continually alternate between Dot's work, home life, friendships, and attendance at weddings as she transforms from an unattractive heavyset woman to a slim drop-dead gorgeous diva. An appealing feature of Dot's character is her snarky comebacks, which as comedic as they are, function as her defense mechanism. Underneath her callous demeanor is actually a very humble and compassionate side that remains consistent even though she changes outwardly.
Souza slowly but steadily builds her plot with various elements to keep the story fluid. Aside from cliffhanging chapter endings and scenes replete with copious amounts of unexpected everything, Souza eliminates monotony by sprinkling the storyline with Dot's therapy appointments, her Barbara Cartland romance reads, and bridal excerpts from Sarah Stein and Lucy Talbot's The Bridesmaid's Manual.
Beauty and the Bridesmaid is a perfect read with broad audience appeal for both Chick Lit and Romance aficionados.