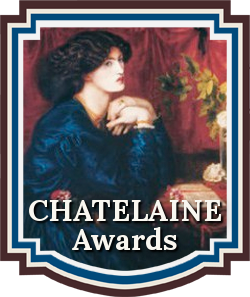 The CHATELAINE Writing Competition Book Awards recognize emerging new talent and outstanding works in the genres of  Romantic Fiction and Women's Fiction. The Chatelaine Awards is a division of Chanticleer International Novel Writing Competitions.
More than $30,000.00 dollars worth of cash and prizes will be awarded to Chanticleer Book Reviews 2016 writing competition winners at the Chanticleer Authors Conference April 1, 2017!
The Chatelaine Awards FIRST IN CATEGORY sub-genres  are:
Contemporary Romance
Historical Romance
Adventure & Suspense
Romantic Steamy/Sensual (Not Erotic)
Inspirational/Restorative
The following Semi-Finalists will compete FIRST IN CATEGORY Positions and Book Awards Packages.
This is the OFFICIAL SHORT LIST of SEMI-FINALISTS of the 2016 CHATELAINE Novel Writing Competition & Book Awards.
Regan Walker – The Refuge: An Inspirational Novel of Scotland
Nicola Italia – Love in the Valley of the Kings
Vicki Volden – Both
M A Clarke Scott – The Art of Enchantment
F. E. Greene – The Never List (Love Across Londons)
Lucy Carol – Stiff Competition
Ashlinn Craven – Building Mr. Darcy 
Diana Forbes – Mistress Suffragette
Nicole Evelina – Been Searching for You
Darby Karchut – Stone's Heart
Lucinda Brant – Dair Devil: A Georgian Historical Romance #2
Gail Avery Halverson – The Boundary Stone
Dorothy Wiley – The Beauty of Love
Toby Neal – Somewhere in St. Thomas 
Kate James – When the Right One Comes Along #2
Kate James – When Love Matters Most
Jayne Castel – The Breaking Dawn
Gillian M. Mercurio –Kisimba
Karen Fitzpatrick – After the Rain
Laura W. Chance – To Cornwall, with Love
Susan Boles – Fated Love
P. A. Estelle – Hannah: Bride of Iowa
Elise K. Ackers – One For the Road
Rebecca Lochlann – The Sixth Labyrinth
Nate Gagon – Breaking Dad
IF your name is on this list, please follow us on Twitter (@ChantiReviews)  and LIKE and Comment on our Facebook page so that we can tag you in our announcements.
https://www.facebook.com/chantireviews/
This list is the Official Posting of the 2016 Chatelaine Semi-Finalists who have made the SHORT LIST for the 2016 Chatelaine Awards.  Good luck to all in one of our most competitive novel competitions!
The Chatelaine Semi-Finalists will compete for the Chatelaine Awards First In Category Positions, which consists of Four Judging Rounds.  First Place Category Book Award winners will automatically be entered into the Chatelaine GRAND PRIZE AWARD competition, which has a cash prize of $200 or $500 dollars in editorial services. The CBR Grand Prize Genre Winners will compete for the CBR Overall Grand Prize for Best Book and its $1,000 purse.   

All Short-Listed Authors will receive high visibility along with special badges to wear during the Chanticleer Authors Conference 2017 and Awards Gala. Register now for CAC17 to be there when your name is called!
Digital book award stickers for on-line promotion
Adhesive book stickers
Shelf-talkers and other promotional items
Promotion in on-line media

As always, please do not hesitate to contact us with any questions, concerns, or suggestions at Info@ChantiReviews.com. 

Congratulations to the Semi-Finalists in this fiercely competitive contest! 
If your name is on this list, be sure to check out: 7 Things to do if you are a finalist or winner in the Chanticleer International Writing Competitions on our Winner Circle page.
The Chatelaine First Place Category Winners and Grand Prize Winner will be announced at the April 1, 2017 Chanticleer Writing Contests Annual Awards Gala, which takes place on the last evening of the Chanticleer Authors Conference that will be held in Bellingham, Wash. Register now for CAC17 to be there when your name is called and accept your blue ribbon on our stage.
We are now accepting submissions into the 2017 Chatelaine Awards writing competitions for Romantic Fiction. Enter the 2017 Chatelaine Awards Today!