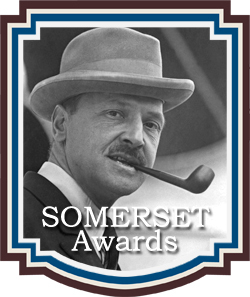 The SOMERSET Book Awards Writing Competition recognizes emerging new talent and outstanding works in the genre of  Literary, Contemporary, and Mainstream Fiction. The SOMERSET Book Awards is a division of Chanticleer International Novel Writing Competitions.
More than $30,000.00 dollars worth of cash and prizes will be awarded to Chanticleer Book Reviews 2016 writing competition winners at the Chanticleer Authors Conference April 1, 2017!
The SOMERSET Awards FIRST IN CATEGORY sub-genres  are:
Contemporary Theme
Adventure/Suspense
Literary
Women's Fiction
Satire
Magic Realism
OFFICIAL LISTING of the 2016 Somerset Writing Competition's Finalists:
The following titles will compete for the Semi-Finalists SHORT LIST:
Bernard Mansheim – Do No Harm: Everydoctor
Michael Hume – The 95th Christmas
Patrick Garry – The Illusion
A. Beharry – Samson: A Tale of Strength, Struggle & Survival
Tony Bradshaw – A Good Boy
Alexander Boldizar – The Ugly
Debu Majumdar – Sacred River
Annette Harper – The Female Defender
Conon Parks – Empty Bottle of Smoke
Karen Fitzpatrick – After the Rain
Boo Walker – Red Mountain
Richard Fellinger – Made To Break Your Heart
Ann DeFee – Lucy's Got a Lot of 'Splaining to Do
Gail Cleare – The Taste of Air
Andrea McKenzie Raine – A Crowded Heart
Andrea McKenzie Raine – Turnstiles
Cricket Rohman – Saving Madelaine
Laurie St. Marie – Baby Mamie
Matt Kilby – The Road Cain Walks
Judith Kirscht – The Camera's Eye
Steve Coleman – The Navigator II: Irish Revenge
Joao Cerqueira – Jesus and Magdalene
Janet K Shawgo – Archidamus
Kathleen M. Rodgers – Johnnie Come Lately
Kevin G. Chapman – A Legacy of One
Megan A. Clancy – chhori
Michael D. Durkota – Once in a Blue Year
Annaliese Darr – Believe
Chief John J. Mandeville – The Admiral of Bolivia
Chief John J. Mandeville – The Fox, Mike, Hilda, and the Green Emerald Cafe Inferno
Priscilla Audette – Court Appointed
Diana Forbes – Mistress Suffragette
Alberto Ambard – Columbus Day
Michael Aloysius O'Reilly – Proud Patrick
D.M. Hamblin – Once Broken
Ronald E. Yates – The Improbable Journeys of Billy Battles (Book 2, Finding Billy Battles Trilogy)
Jamie Zerndt – The Roadrunner Cafe
Marie Louise Joyce – In My Mother's Time
Joseph Newcomer – El Camino Blue
Pete Westmoreland – Shiloh
James G. Skinner – The Galician Parallax
Victoria Carruthers/Zoe Zuber – Going To Bea
Justin Bog – Wake Me Up
Susan Lee Walberg – Finding Maslow
Phillip Buchanon – The Equipment Guys #8
Alma H. Bond, Ph.D. – Hillary Clinton: On the Couch
Patrick Garry – Blind Spots
As always, please do not hesitate to contact us with any questions, concerns, or suggestions at Info@ChantiReviews.com. 
Congratulations to the Finalists!  
Good Luck to all of the Somerset Finalists as they compete for the coveted SHORT LIST  positions.
The Someret Grand Prize Winner and the First Place Category winners, and Short Listers in attendance  will be announced and recognized at the April 1, 2017 Chanticleer Writing Contests Annual Awards Gala, which takes place on the last evening of the Chanticleer Authors Conference that will be held in Bellingham, Wash. 
We are now accepting submissions into the 2017 Somerset Awards writing competitions for Paranormal Fiction. Please click here for more information or to enter the contests.