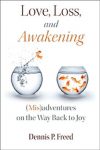 Publisher: Tolawaken Press, LCC (2016)
Buy the book now at:

Amazon
Author's Website
A heartfelt and profound account of confronting the death of a beloved spouse, Love, Loss, and Awakening combines pathos, humor, and gutsy truth from a survivor's direct vantage point.
When Dennis Freed married Hope, they were young. They had two sons, lived in the same house for years, and weathered many crises—until Hope contracted cancer and after several years of struggle, passed away. This is Freed's frank, heart-rending tale of bereavement and recovery, and as such, it is also a paean to his devotion to Hope.
As can be seen, even the names are charged with significance. Hope was a person with a positive nature who enjoyed helping others; who was determined to avoid discouragement even as her body was ravaged by disease, and who after her passing seemed able to advise and comfort her grieving spouse. But Dennis knew that in order to be truly "freed" he must, somehow, move on.
At first, he battled with suicidal ideations, bouncing from despair and loneliness to anger–why did his wife "leave" him? Tormented by memories of Hope, he seized, perhaps prematurely, perhaps to excess, on the notion that other women could save him from his hellish grief state. This wasn't easy for him because he'd met Hope at age 21 and married her soon after; he had to relearn the art of dating. He took on the search for women like a job. He visited dating websites, studied how to create a profile, and took pictures of himself in various poses and outfits. He had problems with his sexual apparatus and sometimes turned to a certain kind of female to relieve his aches and longings. He experimented with hair removal products to re-image himself for dating.
Yet, as he remembered Hope, he knew what he wanted: not just a date – but a real partner. He went through all the recommended rituals: writing a letter of apology to Hope and burning it, scattering her ashes, connecting with his old memories and new aspirations through music and meditation, attending focus groups.
In an especially poignant segment, he describes in vivid detail his wife's one last tear. At times he even believed he had "seen" Hope, or "heard" her counseling him. But widower Freed finally realized that he had to take life as it came at him, not try to orchestrate the next moves; it was then that he found a new companion, someone he could accept and love fully, without guilt or regret.
Freed, a developer, construction executive, and part-time university lecturer displays a remarkable gift for creating rich, emotionally tinged prose. Anyone who's been through, or envisions ever having to go through, even a small part of what Freed experienced, will be moved because his story elicits vividly painful and, ultimately, a broad redemptive spectrum of emotions.
Too personal to be a how-to manual, Love, Loss, and Awakening is more akin to a vivid portrayal of someone desperately stumbling in the dark desperately fumbling for a light switch, a flashlight, even a match to show the way out despair and hopelessness, and, then after a lot of bumps and scrapes, finally finding what he was seeking–happiness.