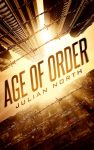 Publisher: Plebeian Media (2017)
Buy the book now at:

Amazon
Author's Website
In the not too distant future, one girl races to save the ones she loves in Julian North's Age of Order.
Daniela Machado, a young Latina from Bronx City, is smart and successfully athletic – especially on the track – but she has more than a few secrets.  She's learned to be very protective of herself and those she cares about, her blood, in an environment where others frequently die.  Aba, her grandmother, and her older brother Mateo, along with her sister of choice, Kortilla, are the only ones she fully trusts.
Daniela knows something must be behind the sudden offer she receives to attend a very prestigious and selective school in another part of the Five Cities, and she's reluctant to accept. Attending the new school and leaving Kortilla behind, however, may be the only chance Daniela has to save Mateo's life.
In this school environment, North skillfully weaves in multiple references to other dystopian works frequently taught in high school. The reader will be reminded of Orwell, Huxley, and William Golding, as Daniela reads them for class. Something else becomes abundantly clear: Daniela and most of her classmates don't get along.
It's more than just a question of money and social standing, though. It's genetics.
Set in the near future of the United States, the action is often thrilling, complete with high-tech rivalries, partisan politics, chase scenes, and class conflicts. While most of the major characters are teens, North's insights into their thoughts and feelings can apply to any age, lending an ageless quality to this otherwise clear morality tale. Their conflicts, confusions, and pain are more than any child should have to encounter. But in this world, those lucky enough to survive must grow-up quickly.
Daniela finds her one solace in running, and she fights her way onto the school track team. No one, not even the school star, can easily beat her when she runs. Daniela, it becomes apparent, has a gift which, after being honed throughout childhood, is now formidable.
It's on the track when she feels completely free, even when the competition seems unfairly rigged against her. North does a fine job of writing these athletic scenes and the reader will feel their feet pounding and gasping for breath as Daniela runs against others –and her hidden past.
As that past comes into conflict with what she is experiencing at school, Daniela and her allies (the other misfits at school) begin to see the true shape of the reality around them. Only through courage and steely resolve will they be able to do what must be done to prevent the genocide those in power have already begun. It's up to Daniela to find her true self, when she needs it most, to save the people she loves.
Age of Order is powerfully charged with rich characters and a dynamic storyline. One of the BEST new Y/A books we've reviewed!