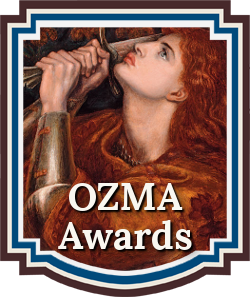 These titles are in the running for the 5 First Place Book Awards for the 2016 OZMA Book Awards novel competition for Fantasy Fiction!
The OZMA Book Awards  Writing Competition recognizes emerging new talent and outstanding works in the genre of Fantasy Fiction. The OZMA Book Awards is a division of Chanticleer International Book Awards and  Novel Writing Competitions.
These titles have moved forward in the judging rounds from SLUSH pile to FINALISTS LIST and now has moved forward to the SHORT LIST of the 2016 OZMA Book Awards. They are now 2016 OZMA Semi-Finalists as they compete for the limited First  Place Category Positions of the 2016 OZMA Book Awards in the last rounds of judging.
Chanticleer Book Reviews is looking for the best books featuring magic, the supernatural, imaginary worlds, fantastical creatures, legendary beasts, mythical beings, or inventions of fancy that author imaginations dream up without a basis in science as we know it. Epic Fantasy, High Fantasy, Sword and Sorcery, Dragons, Unicorns, Steampunk, Dieselpunk, Gaslight Fantasy, Urban Fantasy, or other out of this world fiction, we will put them to the test and choose the best among them.
The First Place Category positions in the OZMA Awards are: Magic, Heroes & Villains, Coming of Age, Steampunk/Dieselpunk/Gaslight, Historical Fantasy, Modern/Urban Fantasy, Fairy Tale/Fable/Myth & Legend.  
Congratulations to these authors for their works moving up from the 2016 OZMA Finalists to the Short List (Semi-Finalists). These novels will now compete for the First Place Category Positions!
Susan Buffum – Black King Takes White Queen
Kristen and Daniel Sheridan – Elementals
Matt Kilby – The Road Cain Walks
Allie Mendelsohn – The Stone Keepers
Gary J. Hurtubise – Darksea
Murray Lee Eiland Jr – The Emperor of Babylon
Murray Lee Eiland Jr – The Sword of Telemon
Rebecca Lochlann – The Sixth Labyrinth
James Malone – Rainbow Gardens
Brad Farley – A Pallid Moon
Christopher Leibig – Almost Mortal
Nicole Evelina – Camelot's Queen
Elizabeth Crowens – Silent Meridian
Alec Hutson – The Crimson Queen
Woody Carter – Narada's Chldren: A Visionary Tale of Two Cities
Raven Oak – Amaskan's Blood
Phillip Buchanon – Aquatic Bourne
Sam J. Charlton – Journey of Shadows
V. Lakshman – Mythborn 2
April Holthaus – Legend of the Fae
Sydney M. Cooper – Forsaken Lands Book 1: Tragedy
Elisabeth Hamill – Song Magick
All Short Listers in attendance to CAC17 will receive high visibility along with special badges to wear during the Chanticleer Authors Conference and Awards Gala.
Good Luck to all of the OZMA Semi-Finalists as they compete for the coveted First Place Category positions.
The OZMA Grand Prize Winner and First Place Category Winners will be announced at the April 1st, 2017 Chanticleer Writing Contests Annual Awards Gala, which takes place on the last evening of the Chanticleer Authors Conference that will be held in Bellingham, Wash.
We are now accepting submissions into the 2017 OZMA Awards Book Awards writing competition. Please click here for more information.
More than $30,000.00 dollars worth of cash and prizes will be awarded to Chanticleer Book Reviews 2016 writing competition winners! Enter your manuscript or recently published book today!