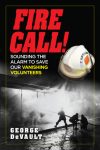 Publisher: Jump Seat Press (2015)
Buy the book now at:

Amazon
In his first job as a newspaper reporter, De Vault attended many emergencies – and firefighters were always on the scene. Gradually he discovered that the vast majority of America's firefighters are volunteers, often leaving their regular jobs by prearrangement or rushing out from home in the middle of the night, to respond to every conceivable crisis, from a simple kitchen fire to a multi-car crash to the cataclysmic events of 9-11-01.
With the encouragement of empathetic wife Melanie, also a reporter, De Vault joined the firefighting ranks as a volunteer in Emmaus, Pennsylvania, while fully immersed in his journalistic career with Rodale Inc. He answered every call, about 5,000 over a thirty year period, no matter what else was going on in his life—even on a day when Melanie was in the hospital dealing with her own emergency.
He describes such harrowing experiences as realizing that the blazing floor he was standing on was about to collapse, to loading corpses into body bags after the mid-air crash of two small planes, to rescuing many traumatized victims, their children and their pets from burning homes. One of the more memorable and terrifying incidents described did not involve fire: the author was called upon to pull out a man stuck in a pond drain, battling pressure that threatened to suck him and the man he was rescuing into watery oblivion. Some events involved animals, notably the blaze in a pet store where volunteer firefighters gave mouth-to-mouth resuscitation, chest compression and oxygen to puppies and a chimpanzee.
De Vault, most recently the local Fire Chief and an eco-conscious family farmer, uses this action-packed memoir to make us aware that if a fire or other disaster should strike our home or place of work, the people who rush to our rescue will almost certainly be volunteers. They will have gone through exceedingly rigorously training, including chopping a log with a 14-pound sledgehammer, carrying a fifty-pound weight 400 feet, and "wrestling a 100-pound rescue dummy out a second-floor window and down a ladder by yourself, while wearing bunker gear and an air pack."
Unfortunately, it has become nearly impossible to attract young people into this work that involves great personal sacrifice; many of our first responder volunteers now are over 50.  De Vault hits us with the facts: every 23 seconds, there's a fire call somewhere in our country, or about 1.6 million calls a year. He lists at least 16 jobs that we can perform voluntarily to assist the firefighters in their valiant and valuable efforts, from grant writer to cook to performing the duties of a chaplain. Or, he suggests, "write a bigger check the next time your fire department has a fundraising drive."
George De Vault is a former reporter/writer who has turned his volunteering into a full-time job and now, a one-man crusade to fire up national interest in our firefighters – who they are, what they do, and why they merit our support. Readers will be thrilled and at times chilled by this up-close view of the sacrifice, guts, and skill displayed on an everyday basis by volunteer firefighters who perform their duties with no thought of recognition or reward. Professionally composed, fast-paced and thought-provoking, Fire Call has already garnered the Charles A. "Chet" Henry Fire Service Advocacy Award in recognition of the book's important message.