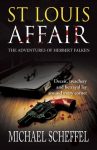 Publisher: Michael Scheffel Publishing (2015)
Buy the book now at:

Amazon
Author's Website
This tantalizing whodunit is set in 1899 St. Louis and revolves around the heinous murder of a prominent wealthy citizen, Charles Garrett, whose body is discovered on the banks of the Mississippi River. Because the crime scene is devoid of clues and political pressure for a fast resolution abounds, the city police turn to professional Inquiry Agent, Herbert Falken, for assistance.
Falken, also known by the public as Major Falken from his heroic exploits fighting renegade raiders along the US – Mexican border, is well respected for his deductive abilities and previous success in solving a perplexing string of grisly crimes. What the public doesn't know is that Falken is haunted by his own personal and professional demons.
Not long after departing from this crime scene, however, Falken discovers a curious fact: Charles Garrett's public and private personas are polar opposites. Faced with a growing list of suspects and demands from the Governor on down to the average citizen for an immediate arrest, Falken feels the pressure. If it weren't for James Westfall (former army officer mustered out due to a permanent leg injury) Falken's aide-de-camp, our hero would be in dire straights. Westfall not only records critical crime scene and subject interview information, but he also cares for and tries to protect Falken—sometimes from himself.
A strong cast of well-drawn and individually distinctive characters who aid, circumvent, and forestall Falken's pursuit of justice adds richness to the story.
Scheffel's use of architectural design, clothing and accouterments, individual and class attitudes, and various character traits and dialects to resurrect old St. Louis is a true highlight of the book. He deftly crafts different scenes in smooth, articulate detail without hindering the story's pace. Whether it's inside Falken's dining room, traveling across uneven paving bricks in a horse-drawn buggy, trudging along the muddy banks along the river, descending into a seedy opium den, or watching Falken get his butt kicked in a bare-knuckle brawl, the reader is right there. Another treat is the seamless placement of real-world news events into dialogue, which adds both authenticity and consistency to the setting.
Overall, St Louis Affair: The Adventures of Herbert Falken is an entertaining turn-of-the-century page-turner with plenty of twists to keep the reader guessing to the end.  Michael Scheffel grabs the reader's attention from the first sentence and doesn't let go until the very last in St. Louis Affair: The Adventures of Herbert Falken, a fast-paced, page-turner that will have the reader hoping that he is hard a work penning a new tale involving Herbert Falken, Inquiry Agent.