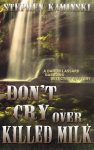 Publisher: Cozy Cat Press (2013)
Buy the book now at:

Amazon
Author's Website
Amateur sleuth, Damon Lassard, has earned enough money in the Japanese professional baseball league that he retired at the age of 31. He now finds himself volunteering at the library, hiking around Tripping Falls State Park, and dabbling in solving mysteries much to the chagrin of the local law enforcement.
And, yes, the title is a pun, and there are plenty more throughout this quick and entertaining read.
He has the requisite female friend who would like to be more than friends but settles for being a sounding board for now, a love interest that is not interested in him, a police detective friend who would prefer Damon not get him into trouble any more by investigating crimes around town, and a keen knack for figuring out murders.
The victim in this book is Jeremiah Milk, Damon's hermit of a neighbor who suffered the tragic loss of his wife and infant son within hours of each other one fatal night.
Damon first gets involved when Jeremiah comes to him at the library to get help for a suspicious recurring insect infestation of his and others neighbors' crepe myrtle trees. Not much of a mystery to solve, but when Jeremiah's body is found at Tripping Falls State Park where he worked, Damon starts his dabbling into the mystery even though his police friend – and his friend's boss, Lt. Hobbes, have strongly forbidden Damon's involvement. Well, any cozy reader knows that those kinds of instructions are meant to be ignored.
The story takes several interesting turns that eventually lead to an unexpected ending. The writing is fast paced and the supporting characters all contribute to the realistic feel of the town of Hollydale near Arlington, Virginia. Many of the clues are extremely subtle and some didn't come into the story until much later, requiring careful attention to all the details throughout the book.
Because this book is the second in a series, some of the details about Damon, his friendship with Gerry, and his tense relationship with Lt. Hobbes may have been covered in more detail in the first book. Regardless, these missing details do not take away from the quick pacing and clever tone of Don't Cry Over Killed Milk a satisfying cozy mystery read..
"Who knew insect infestations lead to murder? But they can – especially if you're Damon Lassard – amateur sleuth – with plenty of time on your hands to figure it all out. Don't Cry Over Killed Milk by Stephen Kaminski will have you in tears – from laughter!" – Chanticleer Reviews